Sainsbury's has revealed more detail as the grocer puts forward its case to acquire Argos and Homebase owner Home Retail Group.
Sainsbury's has compiled a 22-page presentation outlining potential synergies between the businesses and how any acquisition could "accelerate" its multichannel strategy by "two to three years".
The supermarket giant's boss, Mike Coupe, remained tight-lipped on whether a formal bid would be forthcoming ahead of the February 2 deadline, but admitted Home Retail remains a "compelling transaction".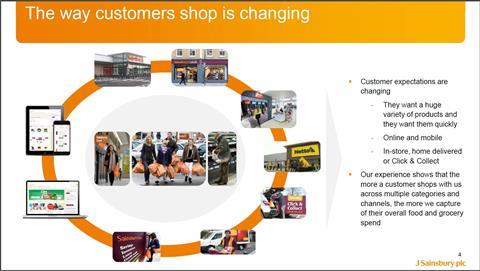 Sainsbury's said the main driver behind its interest in Home Retail was the UK consumer's "rapidly changing" shopping habits. Coupe said he wants the grocer to be there for its customers "whenever and wherever they want", through bricks-and-mortar stores, online and mobile. Sainsbury's is clearly attracted to Argos' distribution network, which would allow it to accelerate its plans to improve its home delivery proposition – particularly by capitalising on the retailer's new Fast Track same-day delivery service.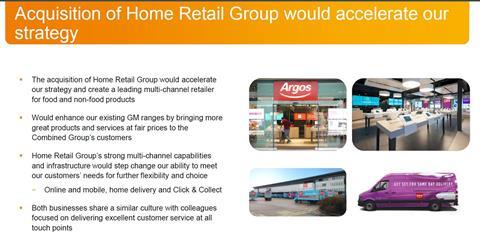 Sainsbury's goes into further detail around how the acquisition would accelerate its multichannel strategy. Coupe said the potential deal would create a "unique" business with an "unprecedented" offer across food and non-food. Coupe estimated that the non-food business alone would be worth £6bn, propelling it onto a similar level as John Lewis and US etail titan Amazon.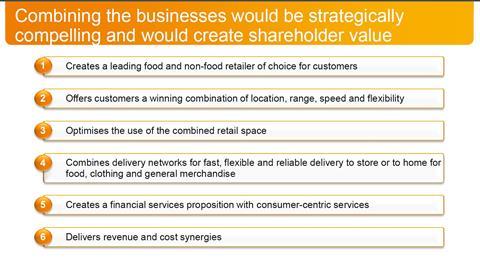 During its presentation, Sainsbury's also re-emphasised the six areas in which a deal would create value for both its shareholders and customers. The supermarket giant had already unveiled these six areas when it revealed news of its rebuffed November approach for Home Retail earlier this month.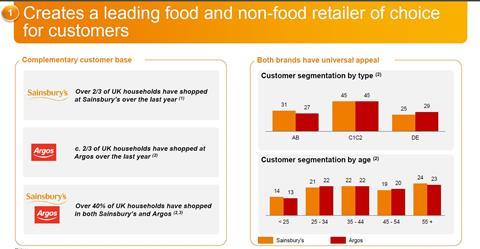 Speaking to journalists this morning, Coupe was at pains to point out the considerable overlap between the Sainsbury's and Argos customer base, stating that more than 40% of UK households – including 80% of Sainsbury's senior leadership team – had shopped at both retailers. Argos already has concessions in 10 of Sainsbury's big-box stores and more shop-in-shops would follow should the acquisition go ahead.
Building on Coupe's opinion that an acquisition of Home Retail could create a "unique" business with an "unprecedented" food and non-food offer, Sainsbury's detailed the potential breadth of the offer during the presentation. Sainsbury's would be able to extend its burgeoning general merchandise proposition by selling its Tu clothing brand through Argos, while popular brands such as Chad Valley and Habitat could also be added to Sainsbury's non-food offer. This would provide a more rounded and compelling proposition for shoppers in its larger supermarkets.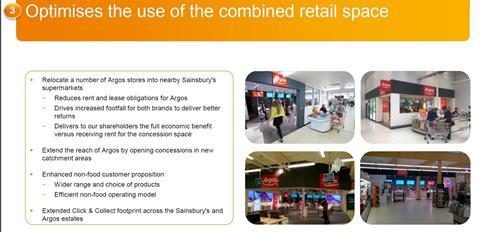 Sainsbury's said it would seek to optimise store space across the businesses and pointed out that about half of Argos' 734 stores had leases expiring within the next five years. Coupe said the acquisition would mean some Argos stores would shut, but insisted the retailer's overall number of "touchpoints" would grow, owing to opening further concessions in Sainsbury's larger stores. The grocer would also extend its click-and-collect offer – it has 101 grocery click-and-collect locations and 731 non-food collection points.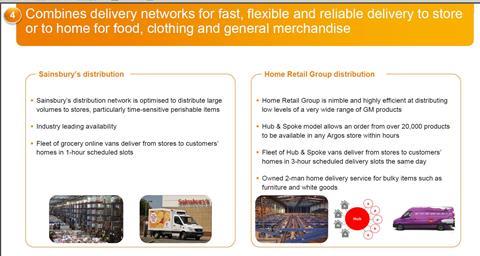 A huge attraction to Sainsbury's is Home Retail's distribution network. Although Coupe insists he does not want to take on Amazon, the etail giant's potential launch of its Fresh proposition in the UK will certainly be on his mind. Argos has a fleet of hub-and-spoke vans that deliver from stores to customers' homes on the same day and Sainsbury's could tap into this to offer quicker grocery deliveries and nullify the Amazon threat.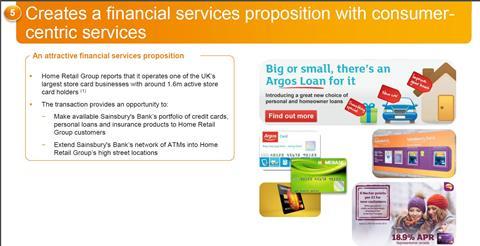 Another opportunity Sainsbury's sees lies within Home Retail's store card business. Across Argos and Homebase, the group has about 1.6 million active store card holders. Coupe believes Sainsbury's Bank could offer its range of financial services, including credit cards, personal loans and insurance to Home Retail shoppers, while putting more ATMs into Argos and Homebase stores.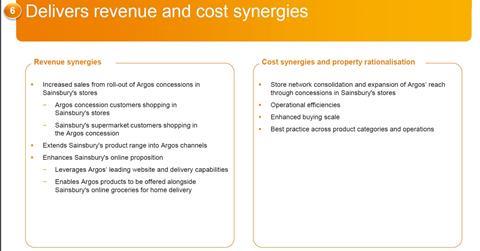 While Sainsbury's didn't reveal how much it estimates to save should an acquisition go ahead, the grocer said it could consolidate store networks and gain operational efficiencies that would cut costs. But revenue streams would also be expanded, enhancing Sainsbury's general merchandise proposition both in store and online.