Tesco is expected to post positive interims next week, but its struggling overseas operations are set to face a brighter than usual spotlight.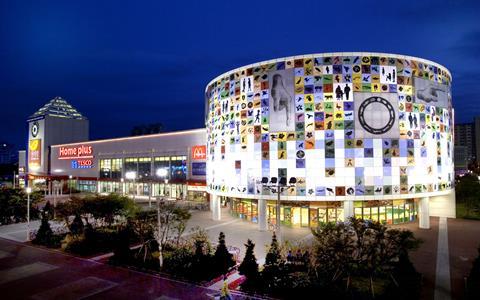 Consensus in the City is that Tesco's UK sales will display signs of improvement off the back of first-quarter gains, when like-for-like volumes rose 1.4% and total transactions increased 1.3%.
But as boss Dave Lewis continues his bid to get the grocer's core UK arm firing on all cylinders – a plan that is seemingly progressing well – the focus of analysts is starting to shift to the other sizable weapons in Tesco's armoury.
The supermarket giant offloaded its South Korean business for £4.2bn last month, a move that came following high-profile exits from Japan, China and the US in years prior to Lewis's arrival.
International development
The Homeplus deal sparked reports of further overseas retrenchment – speculation that was flattened by chairman John Allan this week when he stated: "Our intention is to hold what we have, develop it and make the very best of it."
With that pledge still echoing in the ears of analysts, they will be looking for evidence of exactly how Tesco plans to develop its overseas stores, after trading profit plunged 31.1% to £164m in Europe last year and 15.3% to £565m in Asia.
"It would be good to gain an understanding of how big its international problems are and what kind of solutions Dave Lewis is thinking of"

Bruno Monteyne, Bernstein
Bernstein analyst Bruno Monteyne says that, while evidence of sales improvements, profitability and margin progression in the UK remains key, international performance will come under an increasingly intense microscope.
"Because we believe the UK can turn around to reasonable profitability, we do don't expect any further disposals, so more colour on the international business will be interesting to see," Monteyne explains. "Clearly Dave Lewis will have spent a bit more time internationally compared with previously, given that Matt Davies is running the UK now.
"It would be good to gain an understanding of how big its international problems are and what kind of solutions Dave Lewis is thinking of. Ireland, for example, is a reasonably big problem and is probably in a quite similar position to the UK business.
"Its operations in countries like Poland and Thailand aren't in quite such dire straits, so it's probably more a case of tightening prices and service levels there."
Market conditions
Planet Retail analyst David Gray remains sceptical over Allan's claim that Tesco has completed its disposal programme and thinks there will be more sell-offs "in the longer term" because "its main problems are now international" following the early shoots of a UK recovery.
He adds: "Markets like Thailand have struggled because of political unrest and a slowing economy. In Malaysia they can't open Express stores because of regulation and they are barely opening any hypermarkets.
"In Hungary there are further nasty regulations coming in that hinder foreign operators, so the environment is turning against Tesco in a lot of markets.
"Add to that the fact that the Express convenience format has actually been very unsuccessful in a lot of central European countries, and the discount presence in central European countries like Poland, and the picture isn't great."
Limited investment
Gray believes Tesco won't seek to put "vast amounts of investment into any market" and will aim to "do the best we can with what we've got".
It has already secured shop-in-shop tie-ups with Peacocks and Sports Direct in Hungary and Gray suggests that is a strategy the grocer will seek to roll out in other countries.
"It might do some more sub-letting of space to get rental income and make the stores more compelling – that seems to be the way it is going.
"They can also revamp its in-store cafes to bring in a bistro concept, which is something they have done in Poland and the Czech Republic to good effect, helping drive footfall into stores."
Unanswered questions
With Gray's ideas in mind, Monteyne adds that "understanding the position each of the countries are in, mapping out where there is need for investment and putting together a turnaround plan like we've seen in the UK would all be welcome."
Welcome as it may be, Gray believes a lot of the questions surrounding Tesco's plans for its overseas operations will "remain unanswered" following Wednesday's update.
However, if international profits continue to decline at the alarming rate Tesco reported at its full-year results back in April – and effectively cancel out the progress being made domestically – it will not be long before shareholders and analysts start to demand answers.