Tesco and Morrisons share similar goals of turning around their store estates and regaining shoppers, but have embarked on different strategies.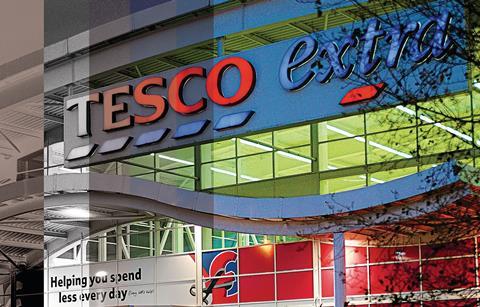 Bosses at both grocers have signalled their intent to transform their respective fortunes by focusing on the performance of their largest stores, but have taken very different approaches to managing their vast property portfolios.
The news this morning that Tesco had regained ownership of 21 of its UK stores from landlord British Land is in stark contrast to the sale and leaseback drive Morrisons is currently embarking on.
Tesco boss Dave Lewis is eager to strengthen the supermarket giant's domestic business and exchanged the retailer's stake in three shopping centres, three retail parks and three standalone stores with British Land, in favour of regaining control of 21 superstores. Tesco also received £96m as part of the mammoth swap deal.
Meanwhile, its big four rival Morrisons is in the midst of a £500m sale-and-leaseback strategy, first announced a year ago. The grocer is understood to be mulling over selling as much as 10% of its 500-strong retail estate.
Last month the grocer agreed a deal to sell three more of its stores, in Reading, Darlington and High Wycombe, for a combined £100m. That deal was struck just months after M&G Real Estate purchased three of its stores for around £110m.
Right directions
But Bernstein analyst Bruno Monteyne said that although the supermarket giants have taken opposing stances in managing their property portfolios, they are not as polarised as they appear on paper.
He told Retail Week: "They might seem like conflicting strategies, but the two are coming from completely different starting points.
"Tesco has been doing way too much sale-and-leaseback in the past, in my view because it gave a great short-term boost to profitability. But it's sitting on a hell of a lot of leverage today. Tesco does have to reduce leverage – it's one of the biggest challenges they have. This kind of transaction helps them do that and also takes out the risk of deflation adjustments to rents.
"Morrisons is coming from the other end of the scale, where it has hardly any lease properties. It's obviously not trading well and wants to return cash to shareholders, so for them adding a bit more in terms of sale-and-leaseback is them getting closer to an optimal point.
"They are both going in the right directions, but they are coming from totally different ends, so it's not as conflicting as it might seem."
"Grabbing a bit more control over your property where appropriate, getting rid of inflation adjustments to rents – that will be the dominant trend."

Bruno Monteyne, Bernstein
But while Monteyne admitted that he understood the thinking behind Morrisons' strategy, he claimed those behind the decision were "doing the wrong thing" by focusing so heavily on sale-and-leaseback, and added that it could be one of the last UK grocers to adopt the approach.
He said: "Morrisons is in my view completely misguided in doing sale-and-leaseback. When your business is doing badly, you don't want to add more debt to the business – you want to focus on what you have, you don't want to sell your last remaining crown jewel – so there will be less and less of that happening in the industry. Even Morrisons is guiding towards selling off additional property rather than the core estate.
"The Tesco strategy, grabbing a bit more control over your property where appropriate, getting rid of inflation adjustments to rents – that will be the dominant trend in my view."
Although Monteyne believes that regaining ownership of stores will be the trend to look out for in the grocery sector, he does not expect Tesco and Morrisons' big four rivals to "rush into" similar strategies.
"Tesco has big trading issues, but Asda has been trading pretty well," Monteyne said. "They have had a few bad months but it's not exactly an unprofitable, collapsing retailer, they just had a few bad quarters.
"It's the same with Sainsbury's – they are under no such immediate need to do substantial restructuring. So I wouldn't hold my breath on those two following Tesco's lead in the near future."