Troubled supermarket giant Tesco has returned to growth for the first time in a year as the grocery market continues its resurgence.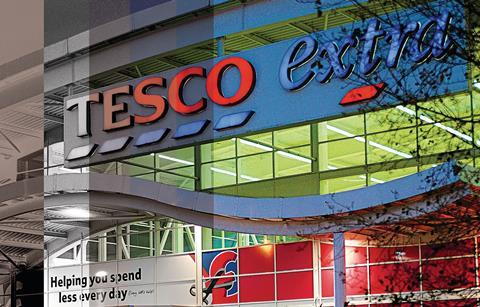 But just how significant are this morning's figures from Kantar Worldpanel, not just for Tesco, but for its competitors?
Tesco sales increased by 0.3% year on year for the 12 weeks to February 1, as the grocery market grew at a rate of 1.1% – the fastest increase since June 2014.
An additional 236,000 shoppers flocked through Tesco's doors during that three-month period, hinting that trust among consumers is gradually being restored.
Despite a drop in the supermarket giant's market share, Tesco's promising sales figures suggest that chief executive Dave Lewis's overhaul of the grocer could now be sowing seeds of recovery.
As previously reported by Retail Week, Lewis has performed what his opposite number at Asda, Andy Clarke, described as "cardiac surgery", swinging the axe on 43 unprofitable stores, shelving schemes to develop 49 existing Tesco sites and revealing plans to streamline the grocer's head office operation in a bid to turn around Tesco's fortunes.
Lewis has also made top-team cuts, which have seen the likes of F&F clothing and general merchandise boss Christophe Roussel, retail director Richard Baker and managing director for Metro Neil McCourt all depart the grocer.
The cost-cutting strategy has seen Lewis live up to his 'Drastic Dave' nickname in the eyes of analysts, with those measures seemingly starting to have the desired effect after the first green shoots were revealed this morning.
Question marks
But analysts have warned against getting carried away by the results, claiming they were delivered against "favourable comparatives" after Tesco underperformed during the 2013 Christmas trading period.
Planet Retail grocery analyst David Gray said it was "far too early to say" whether Lewis's strategy was working and questioned some of his plans to turn the embattled retailer around.
Gray said: "I wouldn't say these results are hugely significant. The 12-week data shows an improving trend, but mainly because they had a very weak Christmas the year before.
"We shouldn't forget that the grocery market is still growing at 1.1% – a much quicker rate than Tesco. The management will be pleased, but it's still a very slow growth compared to the rest of the market.
"There is still a long way to go and I don't think you can say it's turned the corner yet. You need to see a more sustained period of growth to be able to say that.
"Dave Lewis has taken some drastic measures – rebuilding the balance sheet, selling off Blinkbox and focusing on grocery is all understandable. But other moves such as selling off Dunhumby, I'm not convinced about."
Important growth
But Shore Capital director for head of research Clive Black applauded Lewis's strategy and claimed Tesco's improved results could spell trouble for its supermarket rivals.
He said: "We believe that the Kantar data is notable coming on the back of the BRC-KPMG update that the industry has returned to positive volume growth. All boats float on a rising tide and this could be the best news for the supermarkets for some time if it is sustained.
"Tesco's return to sales growth, albeit against favourable comparatives, is very important, particularly so if it is a leading indicator of an improving trend.
"We are an admirer of what Dave Lewis has achieved to date in improving store standards – cleaner, less cluttered, simpler messages, better check-out services and stronger availability (although far from perfect) – plus it seems that shoppers are responding well to recent price cuts.
"Tesco's improvement is a cause for concern though for our third point, and that is the growing malaise in performance from Sainsbury's. Whilst no shock, the strong overlap between these two companies means that Sainsbury's could be facing headwinds for some time."
Black added that Tesco was in a good position to continue its turnaround due to "decelerating momentum of the discounters" including Aldi and Lidl, who he said would face a "more challenging" task in 2015 to continue taking market share from the big four.
Ultimately, only more time will tell whether Lewis's so-called "heart surgery" has succeeded in breathing new life into Tesco.