Discount is Poland's largest channel and is predicted to achieve a 30% share of the grocery market by 2020, according to Planet Retail data.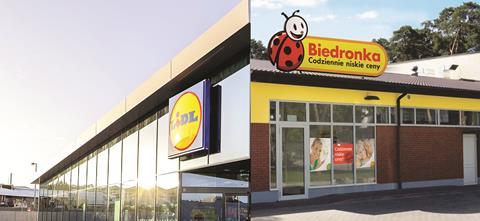 This highlights phenomenal growth for the leading players, almost doubling their slice of the pie from 16% since 2010.
With Biedronka in the driving seat, Poland is one of only two markets worldwide where a discounter is market leader, the other being Turkey.
And discount domination in Poland is growing, with Lidl expected to take second place from Auchan this year.
Founded in 1995, Biedronka was acquired by Portugal's Jerónimo Martins in 1998 and its store portfolio has expanded from 579 to 2,667 in that time.
In 2007, Biedronka surpassed Metro Group's Makro cash and carry format to become Poland's market leader in terms of sales.
Not only has it maintained that position since, Biedronka has also consistently widened the gap between itself and its rivals, chiefly owing to significant organic growth since 2006.
Realising the fascia would soon approach its natural limit, Biedronka announced a target of 3,000 stores as its goal by 2017, while focus would transfer to improving like-for-like sales.
Sign of weakness
The modified strategy to refocus on quality rather than quantity in the form of store upgrades and better-located outlets – has been perceived by Lidl as a potential weakness.
The German grocer has decided that now is the time to put its rival under pressure, sparking a fierce price war.
Lidl fired the first salvo in August, handing shoppers who spent more than 100 Polish zloty (£20) a 20 zloty (£4) voucher to redeem on their next visit.
Biedronka responded by offering 25 zloty (£5) voucher on each purchase above 199 zloty (£40), before both retailers exchanged special promotions on selected private label products.
Wider impact
The Biedronka-Lidl battle has impacted other players in the market.
Earlier this month, Tesco – which has been struggling of late, challenged by the turbulence caused by the discounters – matched Lidl's discount offer for four days in its hypermarkets.
Biedronka has been losing ground to Lidl over the past few years and is slowly reaching the natural limits of discounting.
The market leader is having to search hard for unexplored methods of attracting customers.
One idea it is pursuing is the introduction of a new loyalty card, a surprising move given that Polish customers are traditionally not enthusiastic about participating in such schemes.
Poland, ultimately, is developing into a case study for cut-throat grocery competition in small-format retail structures and operations in provincial or rural areas.
Learnings from here may be transferrable to other emerging markets around the world, including Russia, Asia and Latin America.
As Planet Retail surveys the Polish market, the feeling grows that this country is now telling us plenty about the next generation of emerging market grocery investment.
Adam Cienski is an associate analyst at Planet Retail