After unveiling two separate deals in the vertical farming space, Ocado continues to place itself in the vanguard of grocery distribution and consumption.
The etailer and tech specialist has penned a series of large-scale partnerships at home and abroad over the last 18 months – such as those with Marks & Spencer, Kroger and Sobeys. But it has also been busy quietly acquiring stakes in several smaller companies operating at the technological forefront of food distribution.
In May, Ocado snapped up a minority stake in a robotic chef start-up called Karakuri, which uses robotic automation to assemble ready-to-eat meals.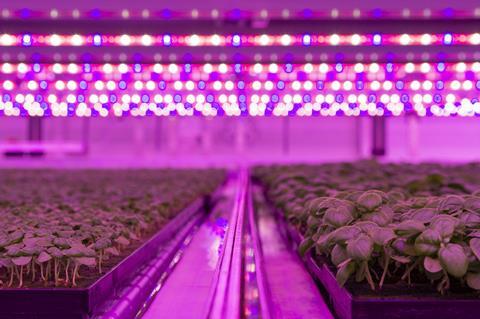 And yesterday it lifted the lid on two separate deals in the realm of vertical farming.
The first is a joint venture with Dutch industrial systems provider Priva and supplier of vertical farm technology 80 Acres, based in Ohio, USA. The partnership, which will be officially formed by the end of the month, will be called Infinite Acres.
The second was the acquisition of a 58% stake in Jones Food Company (JFC) – Europe's largest operating vertical farm, based in Scunthorpe.
Ocado boss Tim Steiner has sanctioned a £17m investment into the two ventures amid a vision to "co-locate vertical farms within or next to" its automated warehouses in order to "offer the very freshest and most sustainable produce that could be delivered to a customer's kitchen within an hour of it being picked".
But will demand from customers make vertical farming the next tech arms race in the grocery sector, or will it fizzle out as little more than a fad?
Growth potential
Vertical farming technology may only just be making its way to the UK, but it doesn't represent fresh thinking on the continent.
Global insights director at TCC Global, Bryan Roberts, points to companies like Infarm in Germany, which has been working with retailers in mainland Europe for five years.
Infarm operates more than 100 vertical farms in Berlin alone, through partnerships with two of Germany's largest growers – Edeka and Metro – and plans to have 1,000 units operational by the end of this year across Europe, the UK and the US.
It has raised $100m (£78.6m) in private equity funding in the past year, summing up the appeal investors believe it could have among a customer base increasingly concerned about sustainability and green issues, and seeking greater visibility of the grocery supply chain.
"I'm still not convinced about the economics of it based on a pure profit and loss basis for the host supermarket"

Bryan Roberts, TCC Global
Roberts says vertical farms have so far predominantly been used "as a bit of theatre" by grocers, as opposed to a delivery solution for customers. Results in terms of sales and profitability of the ventures remain unclear.
But Roberts believes as the technology improves and becomes easier to scale, grocers are becoming increasingly aware of the financial benefits vertical farming could bring in future.
"I think people are getting a bit more intrigued about the commercial aspects of it," Roberts argues. "What we've seen so far, it's quite small-time deployment in-store and more about theatre and engagement than commercial."
Numis senior analyst Simon Bowler says "advancements in robotics and LED lighting" are making vertical farming more "economically viable". He believes the technology also gives "several advantages over traditional farming", including reduced water and energy use, the absence of pesticides and better quality control – all of which would appeal to UK grocers as they seek to achieve marginal gains in a fiercely competitive market.
So it may not be too long before we see the technology become more mainstream in the UK. Infarm is looking to hire staff in Britain for the first time, while John Lewis and Waitrose have been in discussions with Bristol-based firm LettUs Grow about creating in-store allotments where customers can pick their own produce.
Retail theatre
Ocado's outgoing supply partner Waitrose may be eyeing such moves, but the etailer insists that, in the short term at least, its new business partner M&S will not be installing vertical farms in its stores.
Instead, Ocado envisages selling JFC-grown vegetables and herbs on its online platform, while its Infinite Acres joint venture will eventually allow it to develop and sell its own automated vertical farming technology to new and existing clients, alongside its robotic warehouses and logistics expertise.
In-store vertical farms may not be on the agenda for Ocado and M&S right now, but could other UK grocers follow Waitrose's lead and look to the technology to provide experiential reasons to visit stores and make better use of excess space?
Roberts believes such an experiential offer could work in prime locations, but adds: "I'm still not convinced about the economics of it based on a pure profit and loss basis for the host supermarket. You need quite a decent demand for these things to make money and I'm assuming they're quite expensive pieces of kit.
"I think, however, what they will do is send a really great message. They're a great bit of indoor theatre and create a good bit of customer engagement. I think if you're expecting it to make you loads of margin it's not going to do it, but if you think of it as being more part of your broader positioning when it comes to freshness and the environment then it's not a bad thing to do in a handful of prime locations."
What will it offer Ocado customers?
Sending a "great message" is clearly something on Ocado's mind. Finance boss Duncan Tatton-Brown says vertical farming has the potential to "address fundamental customer concerns around freshness and sustainability" and the business can "see a day where customers' vegetables are harvested hours before they are packed, metres from where they're shipped".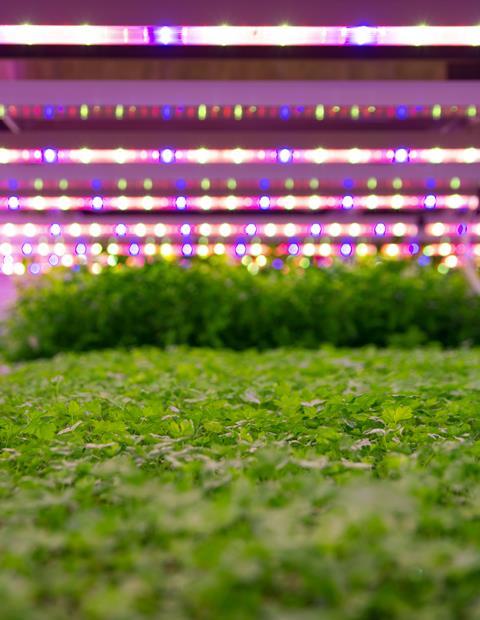 Issues around sustainability are becoming increasingly important to consumers across the retail spectrum, and nowhere more so than in the grocery sector. The Blue Planet effect has led to many grocers – including Sainsbury's, Tesco, Iceland and Aldi – all making pledges to reduce or remove plastic entirely from their products.
Another issue of growing concern is food waste – an area where Tesco has led the industry charge – and Roberts says vertical farming could help retailers make headway.
"I'm sure Ocado will say that, once these things are up and running, they will keep a very keen eye on purchase rates for these items and could grow vegetables and herbs to order, rather than just filling out the capacity of a facility and throwing away what they don't sell," Roberts explains.
It could also give Ocado an advantage over competitors when it comes to the supply chain since herbs and vegetables currently go through a lengthy process from farm to table.
"If you're sourcing herbs, they need to go out the ground from the field, then they need cleaning, trimming and then on to the distribution centre of the retailer, then on to stores, then it'll have a shelf-life," Roberts says. "It'll likely be at the very least a few days old by the time it gets to stores.
"With [vertical farming], if you ordered it from Ocado Zoom's one-hour delivery, you could receive it the same day it's been picked. Therefore, it'll be a lot fresher."
"Ocado is really indicating that it's going to invest in what it sees as the future of food distribution and consumption"

Bryan Roberts, TCC Global
But Roberts believes integrating the technology with Ocado's Zoom one-hour delivery proposition in such a way will take the business "five or 10 years" to achieve. And he doubts whether Ocado will be able to scale the technology to the point that its produce is fully vertically integrated into its supply chain.
"It's not going to be on the same economic scale as say Morrisons owning its own abattoirs or pie factories," Roberts suggests. "I think it's going to be a bit more low key than that on an economic basis when it comes to integration."
But given the relatively minor investment of £17m, Roberts believes it will reap a better return on investment for Ocado's optics among consumers than it will for its bottom line.
"I think what Ocado is doing is really indicating that it's going to invest in what it sees as the future of food distribution and consumption," he says. "It's going to position itself in the vanguard of that kind of development. It's an interesting toe in the water. It looks really good and is a great story for them."
With the ink barely dry on Ocado's latest deals, the future success of these ventures is hard to predict.
But as issues around sustainability and the environment become increasingly important to customers, Ocado's fresh thinking could hand it first-mover advantage in the battle to secure the ethical pound.