Over the last 12 months, momentum has shifted away from Aldi towards Lidl in the battle of the discounters. Retail Week looks at what Lidl has done to close the gap on its rival.
Kantar figures show Lidl's market share grew in 2020 while Aldi's slipped 0.5 percentage points
Data shows that Lidl opened 39 net new stores to Aldi's 31 last year
Analysts say the launch of the Lidl Plus app also chimed with consumers over Christmas
While 2020 will go down in history as one of the toughest years for retail in living memory, it could also be remembered as the time that Lidl stepped out from the shadows of fellow discounter Aldi in the fiercely competitive UK grocery market.
Grocery as a whole enjoyed a record year in 2020 as lockdowns and tiered restrictions designed to halt the spread of the coronavirus shuttered restaurants and pubs and forced all but essential retailers to close.
Yet, while all food retailers saw sales growth during the year, only two grocers saw their overall market share fall: Asda and Aldi. Between January 26, 2020, and the most recent Kantar update up to December 27, Aldi's market share slipped 0.5 percentage points from 7.9% to 7.4%.
While there are some questions over whether Kantar under-reports Aldi sales data, particularly around its general merchandise offerings, it's hard to see how those numbers won't be disappointing for the retailer – particularly given the market's overall trajectory.
By comparison, Lidl's overall market share for the period ticked up 0.2 percentage points, to 6.1%. While a gap still remains between the two discounters, Lidl has been quietly closing it and now, going into 2021, appears to have the greater momentum of the two.
While not necessarily the be-all-and-end-all, the two retailers' recent Christmas updates illustrate this shift.
While both reported "record" trading periods, Lidl's appeared the strongest. In the four weeks to December 27, sales at Lidl jumped 17.9% year on year. More telling was a 24.8% increase in basket size over the period.
Aldi, meanwhile, in the four weeks to December 24 managed its own record 10.6% sales growth year on year.
While not giving a percentage figure for basket size growth over the period, an Aldi spokeswoman says: "Our unbeatable combination of the highest-quality products at the lowest prices attracted new customers to our stores and helped us to maintain the largest average basket size in the sector."
While both are often lumped under the discounter label and almost treated as one, this last year has also highlighted the divergence of the two retailers' models.
A matter of convenience
While Aldi at least has looked to diversify its channels over the last year by wading into online grocery delivery, both it and Lidl still see store expansion as key growth drivers.
Both Aldi and Lidl are targeting a 1,200-strong store estate by 2025, and both are currently operating from a similar estate of around 900 across the UK.
With that in mind, could Lidl's sustained growth compared with Aldi in 2020 be down to something as simple as new store openings for the period?
According to Local Data Company, Lidl opened 39 net new stores in 2020, compared with Aldi's 31. By comparison, in 2019, Aldi took 25 to Lidl's 19.
"Lidl's had convenience stores for years; they've just not called them convenience stores. In some of these smaller stores they have an edited proposition"

Kien Tan, PwC
While PwC retail strategy director Kien Tan believes this played a part, he argues that it's not just new stores that may have given Lidl the edge, but also where its existing stores already were.
Aldi made headlines in early 2019 when it rolled out a number of its Local convenience store fascias in London, but Tan says Lidl had been operating what equates to an estate of convenience-store formats long before that.
"Lidl's had convenience stores for years; they've just not called them convenience stores. In some of these smaller stores they have an edited proposition like it's a convenience store.
"Some of the new ones in London don't have the full range, but will sell the best-value item for them. So, rather than carrying, say, five toothbrushes, they'll only carry one and that just happens to be the most expensive in their range."
Shore Capital director Clive Black says Lidl also enjoyed better like-for-like store sales numbers across its existing portfolio in comparison to Aldi last year.
"When you look at the numbers, you've got to take 5% or 6% off those headline sales numbers in order to remove the contribution of new space to get to the like-for-like number," he says.
"On that basis, Lidl looks like it's got healthy like-for-like, while Aldi, by the looks of it, has got flat to low single-digit like-for-likes".
Investing in new stores and its existing estate is clearly on Aldi's agenda in 2021, as its spokeswoman emphasises.
"This year we will continue our two-year plan, which will see Aldi invest over £1.3bn in new stores and infrastructure, bringing Aldi closer to more people, growing our customer base and developing new services, like click and collect, without compromising the highly efficient operating model that underpins our market-leading prices."
Brand-name offerings
In its Christmas update, Lidl was keen to point out that it had not just been a top-up shopping destination during the festive period, but in fact had been the go-to grocery store for both new and existing customers.
To that end, Lidl said it had snapped up £34.7m of spend from its competitors over the period. For Black, a key factor in this has been Lidl introducing more brands to sit alongside its private-label ranges.
"Lidl has evolved its proposition away from deep private-label discounting. This has been effective in widening its customer base"

Clive Black, Shore Capital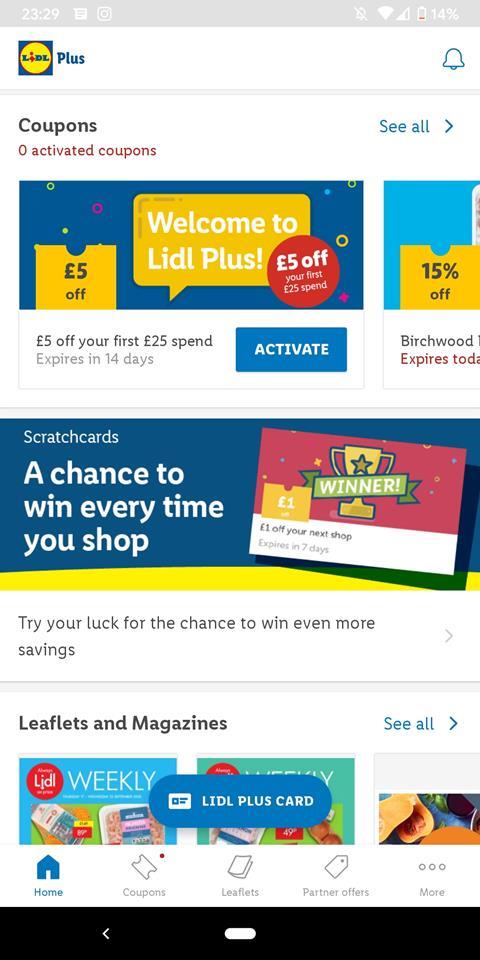 "Lidl has evolved its proposition away from deep private-label discounting into a more limited assortment supermarket range with more proprietary brands as well as private-label," says Black.
"This has been effective, particularly in widening its customer base."
While the overwhelming majority of SKUs sold by Lidl continue to be its own private-label products, it has shown more of an openness to stocking outside brands, particularly in lines such as confectionery, with Unilever products such as Magnum and in ambient grocery with the likes of Heinz.
Aldi would argue that its 'Like brands, only cheaper' strategy has not only been the key pillar in its stratospheric growth in the UK, but will continue to drive growth in the future.
Alongside driving strong sales volumes, Aldi's private-label focus also removes the pressure to compete in terms of wholesale pricing on household brands with the big four grocers, all of whom have the advantage of much larger buying volumes. This in turn keeps prices on Aldi's shelves lower for customers.
While it's hard to argue that this strategy hasn't succeeded in the past, it seems not to have chimed quite as much with customers last year.
A reason for this might be that, despite the UK having officially fallen into recession in August, the ongoing lockdowns and government support schemes around that have actually insulated many people's personal finances, resulting in some shoppers having increased savings and disposable income.
As a result, as has been seen across the grocery sector's Christmas updates, many customers looked to treat themselves to higher-end products last year, which may have played into Lidl's hands with its more diverse brand offering.
Rewarding loyalty
One last key area of divergence has been the launch of Lidl's Plus loyalty rewards app.
Launched in early August in the UK, Lidl Plus offers customers new digital savings coupons on different products each week, reward schemes and £10 off the next shop for every £100 spent.
"There's nothing sophisticated about the offering; it's Tesco strategy circa 1993. But it's exactly what they need to do at this point in time"

Kien Tan, PwC
While PwC's Tan says that the app and scheme are not exactly revolutionary, they have been launched at just the right time to take advantage of changing customer behaviours due to the pandemic and Lidl's own expanded range.
"There's nothing particularly sophisticated about the offering; it's kind of Tesco strategy circa 1993. But there's nothing wrong with that because it's exactly what they need to do at this point in time."
While not giving away sign-up numbers, Lidl said it put much of its Christmas success down to the "enticing incentives" found on its Plus app.
"The app's loyalty aspects just help Lidl build bigger baskets," continues Tan. "Which offsets its other problem, which is that it has smaller stores, certainly compared to the more mainstream supermarkets, and now can't fit as many people inside them."
The app's vouchers will likely be eating into Lidl's margins and may well force it into greater and greater promotional activity this year, at a time when the effects of the ongoing financial crisis begin to be felt more by customers.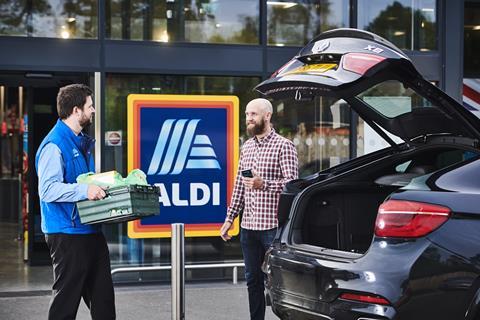 However, for all that, there's no doubt that it's been a key factor in driving customers to Lidl – and it's proven to be a differentiator Aldi has not yet found an answer to.
For its part, Aldi spent much of 2020 looking to expand into online via a tie-up with Deliveroo and launching click and collect to try to woo a growing segment of the market.
Kantar figures show that online sales as an overall contribution to grocery revenue peaked at 15% at the end of the first lockdown.
While Aldi's delivery partnership with Deliveroo and click-and-collect services have put it in a better place to capitalise on this new grocery landscape in the medium to long term, they have not driven footfall or sales in the same way.
The coronavirus crisis has clearly helped Lidl more firmly establish itself in the market and its impressive Christmas trading capped a year of solid growth in both sales and market share.
With positive news around the vaccine rollout undermined by the fact the UK economy contracted 2.6% in November, there is no doubt that the battle of the discounters is only just beginning to heat up.