Tesco's decision to bring fashion retailers under its roof has raised a few eyebrows, considering the success of its own F&F clothing brand.
As revealed by Retail Week, the supermarket has sealed a deal with Arcadia tycoon Sir Phillip Green that will see Dorothy Perkins, Burton and Evans open shop-in-shops at five of the grocer's larger stores.
Tesco has also agreed similar partnerships with Claire's Accessories, Pavers and Sock Shop as it seeks to make better of use of excess space within its larger sheds, which have become out of kilter with the habits of the modern shopper seeking convenience and value.
But the decision to bring the high street fashion specialists into Tesco Extra stores has split opinion on what the move means for the future prospects of F&F.
'Contradictory' to F&F
"It's contradictory in a way, in that Tesco is making huge progress with F&F in terms of both range and merchandising," Kantar Retail senior vice president and knowledge officer Bryan Roberts offers.
"It does suggest that nothing is off limits in terms of the partnerships Tesco will consider. Even if it proves dilutive to the economics of F&F"

Bryan Roberts, Kantar Retail
"It has become a very, very good fashion offer. To dilute that, to some extent, by inviting in what essentially are competitors does hint that perhaps F&F isn't all it's cracked up to be.
"On the other hand, Tesco does just have way too much space in some of its stores and the objective isn't necessarily to protect F&F's sales, but to drive footfall.
"It does suggest that nothing is off limits in terms of the partnerships Tesco will consider. Even if it proves dilutive to the economics of the F&F department, Tesco will take that on the chin and see it as a price worth paying if it brings in hundreds of new shoppers every week."
Complementary proposition
For Bernstein analyst Bruno Monteyne, Dorothy Perkins, Burton and Evans will complement the F&F proposition in an environment that will allow Tesco's and Arcadia's brands to thrive.
"F&F is a different kind of clothing than much of the Arcadia proposition," he says. "There will always be a bit of overlap, but a lot of it is childrenswear and more basic, while Arcadia is more fashionable and has different strengths than F&F.
"The fact that you have both of them in the same place, people might say: 'aren't they competing?' but I don't think they are. If you want a fashionable new top or a dress, you can go to one side, but if you want new shoes and trousers for your children to go and play outside in, you go to the other side. Having that more rounded solution under one roof can benefit both parties."
Monteyne also counteracts Roberts on the idea that driving footfall was Tesco's main aim behind the tie-up. He believes it would not have formed part of the equation boss Dave Lewis used when calculating whether or not to partner with Arcadia.
"If you can drive better revenue off space through rental agreements, why wouldn't you? It makes sense for Tesco."

Bruno Monteyne, Bernstein
"The notion of driving footfall reminds me of when Phillip Clarke was talking about making stores into destination places, having customers spending an entire Saturday at a Tesco store," Monteyne says.
"People won't say: 'Oh my God, I have to go and see those Arcadia stores.' People that are already at Tesco buying their food or getting petrol will go into these shops, but I don't think they will drive extra traffic.
"But if you can drive better revenue off that space through rental agreements, why wouldn't you? It makes sense for Tesco."
Other categories
While both analysts agree that targeting partnerships with retailers and sub-letting excess space is a route that Tesco and its big four rivals Sainsbury's and Asda will continue to pursue, Roberts suggests that Tesco might be better placed to entice retailers from different categories into its Extra stores.
The grocer has already launched similar tie-ups with Mothercare, gyms and children's play centres at other locations, while Roberts points to how Carrefour brought in the Dixons Carphone-owned Kotsovolos to take over the electrical department in its Greek stores.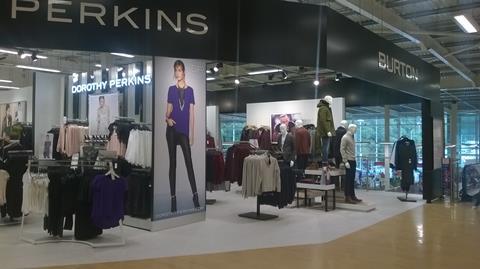 "Arguably, partnering with retailers that operate in categories Tesco already sells in might not act as a massive footfall driver," Roberts argues. "If Tesco partnered with someone really specialist in something it doesn't do particularly well, such as sports or pet, that might be more of a traffic driver.
"Tesco has an aisle of sports equipment and there's nothing wrong with it, but it's not amazing either. Perhaps linking up with someone in that space would give it genuine destination status within that category.
"Carrefour in Greece basically said it wasn't very good at selling electronics, it didn't make any money, so it handed that department over to Kotsovolos. If there's a big category you're not doing particularly well in or the economics aren't stacking up, it's not without precedent to partner up with a specialist third party to fill that gap for you."
Sainsbury's appears to have taken a stance akin to that by sealing partnerships with Jessops and Argos, while Asda is piloting a tie-up with French sports giant Decathlon.
Monteyne believes "there will be many more similar deals to come" from the grocers because concession agreements of this ilk are "clearly part of the future" for larger supermarkets. If that's the case, tie-ups like the one Tesco and Arcadia have struck are set to remain very much in fashion.