During its 25 years of trading in the UK, Aldi has become accustomed to raising eyebrows and sparking debate among grocery analysts.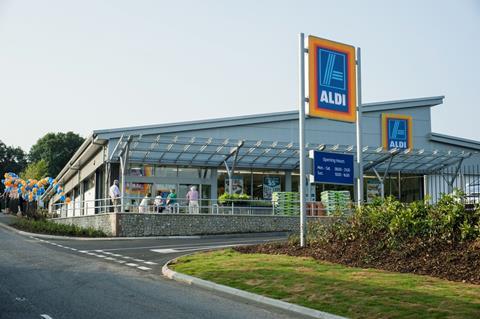 In keeping with that hard-earned tradition, the discounter today unveiled plans to move into ecommerce, with wines by the case and special buys set be available to purchase online from early 2016.
Crucially, though, the German grocer has resisted the temptation to extend its core grocery offer onto its transactional website, in which it has invested £35m.
Selling fresh produce online is a notoriously difficult business to turn a profit from – just ask Ocado's founder and boss Tim Steiner, who slogged it out for 15 years before his etailer turned its first full-year profit.
Focus on stores
With that firmly in mind, analysts appear unanimous in their verdict that Aldi has done well to stick to its knitting and prioritise bricks and mortar growth over online. Aldi has plans to reach 1,000 stores by 2022 continuing to gather momentum.
Kantar Retail senior vice-president and knowledge officer Bryan Roberts says: "It's no great surprise it is avoiding grocery ecommerce, for the time being, because that doesn't sit well with a number of issues such as its average basket size and its customer demographic.
"You could argue that it would be quite a quick way for it to achieve wider coverage in the UK, but for the time being Aldi can achieve that by opening more stores, because there is still capacity for it to grow in this country."
Roberts also points out that Aldi's narrow product range would not fulfill the needs on the online customer. "You have to consider the overall philosophy of the business, particularly when you think about its narrow range," he says. "You can forgive it for that in store because it's a quick and easy shopping trip, but a narrow range online is the antithesis of what online is about – having the hugest possible range."
Range considerations
Indeed, when it comes to the special buys launch in particular, Cantor Fitzgerald analyst Mike Dennis suggests that Aldi may need to enhance its streamlined product range and sell more branded lines in order to build a more rounded online proposition and drive customer loyalty.
"The idea of special buys can be very attractive but it doesn't necessarily drive the sort of long-term loyalty that you need as an online business," Dennis explains.
"Ocado has something like 45,000 product lines, it has brought things like pet care into its online offer. You have to ask: does Aldi start doing other non-food categories? It might not go for the complete online grocery offer to start with, but I suspect it will try and become more sophisticated with those non-food lines.
"Aldi will have to be more like a TK Maxx – getting branded special buys in. How that sits with Aldi as a largely own-label business will be interesting, because it would mean it taking its business much more into the branded world when it comes to non-food."
Availability improvements
Even without a beefed-up, branded range, Roberts believes Aldi will be removing a big monkey from its back by taking its non-food offer online.
"Aldi does incredibly well in categories like cycling gear and the British cycling community are very aware that the products Aldi sells are good quality," Roberts believes. "The problem is that it's only available twice a year and it sells out incredibly quickly.
"When it sells electricals like laptops and TVs, they disappear almost immediately as well.
"One of the main criticisms of Aldi is the fact that some of those non-food items disappear quickly because each store gets a fairly lame allocation of products. That makes sense from Aldi's point of view, but it can be frustrating for the consumer."
Wine rivals
While the sector waits with baited breath for signs of how Aldi will develop its ecommerce proposition, its initial launch in the first quarter of 2016 will see the German grocer focus on wine.
The discounter has built a reputation for its extensive wine offer, which scooped 43 awards at the International Wine Challenge earlier this year. Its selection starts from as little as £2.99 per bottle.
The fact it is taking that category online has repercussions for its rivals, Roberts and Dennis believe. Roberts believes launching wine online is a "no-brainer" for Aldi that will prompt the "erosion of market share in the wine category" for its grocery rivals and specialists such as Majestic Wine.
Dennis says it is Majestic, owner of online-only Naked Wines, which will be watching Aldi's newest venture with the keenest eye.
"When it comes to the bulk orders of wines and spirits, Aldi will capture much more of that market by offering an online service," Dennis says.
"Obviously, it will put a lot of pressure on retailers like Majestic Wine, it will put pressure on the wine clubs in supermarkets and I suspect it will start to force down the prices of more premium wines.
"But is this going to be any better than what you've got in the existing environment? Is Aldi going to offer a better service than Majestic? Is it going to offer a better product range? That's what everyone will want to find out."
Nimbleness
Despite those questions looming large as Aldi keeps to another time-honoured tradition of keeping its cards close to its chest, Roberts thinks the move serves to show the increasing strength of Aldi's hand in the UK.
"What this proves above anything is the growing sophistication and nimbleness from Aldi, which indicates that it isn't going to rest on its laurels.
"It is going to continue driving the business forward, both in a traditional sense and by exploring some of these new avenues."
That, in itself, should serve as a clear warning shot to its rivals.