Sainsbury's posted a drop in underlying pre-tax profits at the half-year stage as like-for-like sales fell amid "challenging market conditions".
Here are five things we learnt from its first-half results presentation:
Sainsbury's is getting its teeth into the Argos estate
Sainsbury's has remained tight-lipped on the future of the Argos portfolio and how many standalone stores it will shutter, but today it gave the biggest indication yet as to the scale of the closure and relocation programme that could potentially be on the horizon.
The grocer says it has the "opportunity to optimise" the estate, with more than half of Argos leases expiring within the next five years.
By the end of 2021/22, if Sainsbury's opted not to renew all the leases that are due to lapse during that time, Argos's 839-store portfolio would be slashed to just 382.
"The whole infrastructure of Argos is based around this hub and spoke network, so you've got to have the hubs and you've got to have the spokes."

Mike Coupe
In contrast, Coupe reveals that the grocer aims to open 250 Argos digital concessions inside Sainsbury's supermarkets within the next three years, although he declines to say what proportion of those are likely to be store relocations.
He stresses that there is no "direct read through" between the number of digital concessions it plans to open and the number of standalone stores it will shutter.
Coupe says: "There are many leases we would seek to renew and the whole infrastructure of Argos is based around this hub and spoke network, so you've got to have the hubs and you've got to have the spokes."
Separately, as part of the deal with Wesfarmers, Sainsbury's is in the process of removing Argos concessions from Homebase stores, with 35 due to have been closed by the end of 2016/17.
Argos concessions are having a halo effect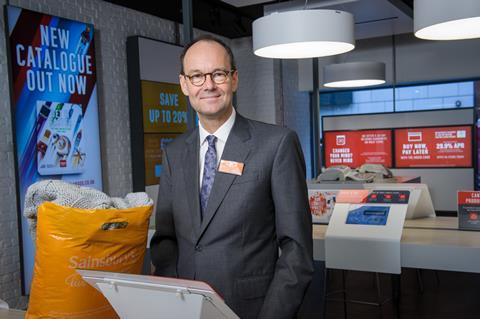 Sainsbury's has already installed Argos digital concessions into around 20 stores – and early results have given the grocer confidence that the wider roll out it is targeting will prove successful.
The supermarket giant had 10 shop-in-shops operating prior to the Home Retail acquisition – and today it lifted the lid on the performance of those sites.
The grocer said sales densities were "strong", with "significant" like-for-like sales growth being recorded, as customers become aware that Argos concessions have been installed in Sainsbury's stores.
But it's not just Argos that is benefitting.
Sainsbury's said that in supermarkets where an Argos digital shop-in-shop had been installed, the 'halo' effect had driven grocery sales up by between 1% and 2%.
Many analysts had questioned the overlap between the Sainsbury's and Argos customer bases, but the grocer insists that Argos' complimentary offer and click and collect capabilities are already driving uplifts in both footfall and sales within its larger sheds.
Sainsbury's is dipping its toe into franchising
Amid plans to make £500m in additional cost savings across three years from 2018/19, Sainsbury's is turning its attention to "capital light" areas of growth.
Among those is a pilot of franchisee-operated c-stores on service station forecourts, via a link up with Euro Garages.
The grocer has opened five franchised Sainsbury's Local shops, with a sixth due to launch by the end of the week.
Sainsbury's already operates around 20 convenience stores on petrol forecourts, but Coupe believes the new franchise model could open up "quite an interesting avenue for growth" for the business.
"We are exploring the opportunity of franchising – that's a big step for us," Coupe says.
"We've got to take it slowly and understand how it works, but so far so good."
Big four rival Morrisons is testing a similar venture with the Motor Fuel Group as the mainstream grocers seek to minimise both the cost and risk involved with growing their portfolios into new areas.
There's more range improvement to come
Despite a huge body of work to improve its food proposition, including improving the quality of 3,000 lines, launching its 'Deliciously Free From' label and an £8m investment into its revamped 'On the Go' range, Sainsbury's is far from finished.
Coupe reveals that the grocer is to undertake further range reviews in 125 "major categories" across the grocery business, which will touch around 60% of food sales.
"Sainsbury's is keen to keep its foot on the gas and maintain its hard-earned reputation for higher quality"
"We are not sitting on hands, we are not resting on laurels," Coupe declares.
"We are focusing on improving the quality of our food offer."
Coupe adds that the supermarket giant has "made the right kind of investment" in its offer so far – to the benefit of sales – but emphasises that there is more work to do.
With mainstream competitors Tesco, Asda and Morrisons also spending swathes of time and money on rejuvenating its own label propositions, Sainsbury's is keen to keep its foot on the gas and maintain its hard-earned reputation for higher quality.
The pension problem is not as eye-watering as we thought
Much has been written about Sainsbury's ballooning pension deficit, which has crept over £1bn.
Add in the £249m liability on the Argos scheme and the retailer is faced with a £1.3bn black hole.
However, the supermarket giant's interim chief financial officer Ed Barker explains that the figures detailed in its accounts are not representative of the current situation.
"That's a factor of where we are in the cycle of where discount rates are," Barker says.
"They were particularly low on September 24 [the end of Sainsbury's half year], but in fact if you re-ran the numbers at yesterday's date, that £1.3bn would already have come back to under £1bn.
"It's dropped £300m just because discount rates have moved again over the past five or six weeks."
Sainsbury's has agreed to increase recovery payments into the scheme by £6m per annum to £84m.