Tesco has replaced its Price Promise with the Brand Guarantee scheme from today. Retail Week takes a closer look at the initiative.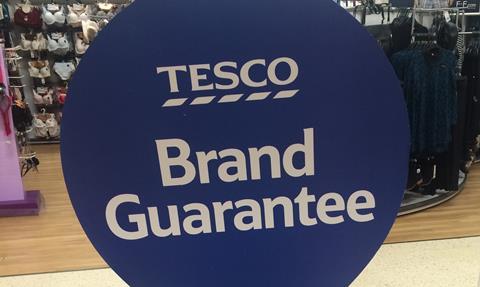 What is Brand Guarantee?
Brand Guarantee is Tesco's latest salvo in the supermarket price war, giving customers "an immediate price match at the tills" on their branded grocery shop, both in larger stores and online. The retailer says it is the first UK supermarket to do so.
The new scheme, which was piloted across stores in Northern Ireland, replaces Tesco's Price Promise. The previous initiative offered customers a voucher to use on future purchases if their basket was more expensive than it would have been at Sainsbury's, Asda or Morrisons. Price Promise included own-label goods, as well as branded products.
Brand Guarantee will only apply to branded products when shoppers have purchased 10 items or more. A customer's basket can be a mixture of Tesco own-label and branded goods, but savings will only apply to the branded items.
There will be one of three outcomes printed on a customer's receipt. The first potential outcome is that the customer could have saved money elsewhere and the difference in price will be deducted from their bill.
The second outcome will be a note telling them they have saved a certain amount by shopping in Tesco compared with a comparable shop elsewhere.
Finally, there could be a note stating that the branded shop was identical in price to rivals.
Why has Tesco introduced it?
Tesco said it was introducing Brand Guarantee because price match vouchers, like those awarded to customers in the Price Promise scheme, "were failing to meet customers' needs".
The grocer cited research from YouGov, which suggested shoppers were "potentially missing out on hundreds of millions of pounds in savings each year" because 48% of consumers forgot to use price match vouchers, while 16% said they lose vouchers before claiming their savings.
The survey found 35% of Britain's supermarket shoppers had never used a price matching scheme in-store. That rose to 80% for customers who do their grocery shopping online.
Tesco's UK and Ireland boss Matt Davies said that instantly price matching at the till removed the "stressful and awkward" moment customers face when having to rummage through a purse or wallet to find their price match vouchers.
He added that by giving instant price parity at the checkouts, Tesco was "taking the hassle out of a trip to the supermarket or an online shop".
How does Tesco's scheme differ from its rivals?
Tesco is the first UK supermarket to give customers an immediate price match at the tills, but it is not the only grocer with a price matching scheme.
Sainsbury's Brand Match initiative compares a branded shop to prices of the same goods at Asda. If a branded basket is found to be cheaper at Asda, shoppers receive a voucher giving them the difference back on their next shop.
In August, Sainsbury's extended the scheme to online grocery orders and revealed that it had dished out more than 230 million Brand Match coupons during its past financial year. More than half of those showed that a comparable branded shop was cheaper at Sainsbury's than at Asda.
Grocery Insight director Steve Dresser described Tesco's Brand Guarantee as Sainsbury's "Brand Match on steroids", because it compares prices to all of its big four rivals, not just Asda.
But Asda's own scheme, named Price Guarantee, goes one step further, comparing its comparable grocery shop not just to big four rivals Tesco, Sainsbury's and Morrisons, but also to upmarket grocer Waitrose.
Under the Asda initiative, shoppers are given a barcode number that they have to enter online or through the Asda app, a minimum of three hours after completing their grocery shop.
Asda pledges that, if it isn't 10% cheaper than the four supermarkets, it will give customers the difference back as a discount on their next grocery shop.
Morrisons shoppers can use its Match & More loyalty card to price match branded and comparable own-label products against its big four rivals, as well as discounters Aldi and Lidl.
Under the current scheme, if shoppers could have paid less at any of the five competitors, Morrisons gives them the difference in points. Once 5,000 points have been collected, customers will receive a £5 voucher.
But the grocer recently revealed changes to make scheme "simpler".
From November 2, shoppers will earn five points for every £1 spent, so the price comparison element of the loyalty scheme will come to an end. Morrisons customers will still receive a £5 voucher for every 5,000 points earned.
How has Brand Guarantee been received?
Following a pilot of the scheme in Northern Ireland, Tesco's chief customer officer Robin Terrell said feedback had been "great", with shoppers "really responding positively" to the immediate price parity.
Shore Capital analyst Clive Black says the move showed Tesco was being "rational and measured in how it plans to boost its value credentials".
Black adds: "While never saying never, it appears that Tesco UK will continue to adopt a gradual approach to being more price competitive rather than adopting a 'big bang' event. We deem this to be a good thing for sector sentiment with Tesco progressively reinvesting any out-performance and simplification benefits into price and proposition – a stance that requires the virtuous cycle to turn first."
"Why not scrap what was an increasingly meaningless Price Promise altogether and just have confidence in the reality of Tesco's price file?"

Clive Black, Shore Capital
However, Black said that the "big problem" was that shoppers had "moved on".
"British shoppers know that the limited assortment discounters are cheaper than the superstores and to focus only on matching prices of the big four is simply myopic to our minds," Black says.
"Why not scrap what was an increasingly meaningless Price Promise altogether and just have confidence in the reality of Tesco's price file?"
But independent analyst Nick Bubb argues that Brand Guarantee "could be a game-changer" in the grocery sector, because "it does away with money-off coupons in favour of an instant discount at the till".
Bubb says: "The fact that Tesco has not issued an official RNS announcement implies that there are no profit implications – will Tesco put up own-label prices to help pay for the price cuts on brands?"
Terrell declined to provide a figure when asked how much the scheme could cost Tesco, but if it helps achieve chief executive Dave Lewis's core goals of improving competitiveness in the UK business and rebuilding trust and transparency as far as price is concerned, then it could turn out to be money well spent.