Amid a roll-out of the 4G network, grocery retailers are leading the way in enhancing their stores with multichannel additions that are predicted to boost sales.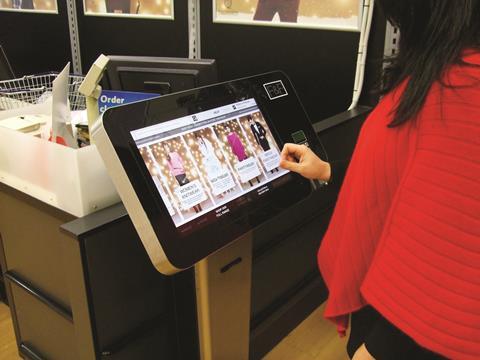 The proliferation of in-store technologies has been positive for both retailers and shoppers, yet insufficient bandwidth has often curbed their adoption. However, with 4G rolling out this year, such problems should be a thing of the past.
Rob Harper, head of retail services for PayPal UK, says the arrival of 4G will "help to break down barriers and increase consumers' likelihood to shop via their smartphones or tablets - including making mobile payments in store. It won't just turbo-charge the way we shop. It will truly give us the ability to shop anytime, anywhere".
He adds: "4G will bring a more immersive, instant and intimate shopping experience than ever before."
Meanwhile, eBay predicts the new capacity will boost the UK retail economy by £1.8bn in 2013.
The grocers want a share of this pie, and are working on various in-store technologies, from upmarket grocer Booths launching a loyalty card and app to Sainsbury's and Asda trialling scan-and-shop technologies.
Tesco director for clothing online Emily Shamma is evaluating a six-month trial with Cisco of five technologies that ran in its F&F clothing offer in three large stores. These include digital and social signage, a touchscreen order point, a Kids StyleMe Mirror, a digital mannequin, and a 47-inch touchscreen for displaying customised style guides.
Despite initial scepticism of the kiosks, Shamma says the trial has shown that sales across them were "good", but the key benefit they have brought is a raised awareness of Tesco's online business. "We don't have enough store customers buying online so the big surprise has been the raised awareness from them," she says.
Shamma says the next step is to also incorporate mobile into the solutions, which could be through an app, QR codes or other emerging technologies. One idea is to enable the scanning of a product's barcode on the kiosk screens and style guides that can then lead to a purchase in store or online.
Such experimentation is being mirrored at Marks & Spencer, where Nikos Karaoulanis, user experience design lead, says: "Customers are asking for more innovation and they are forgiving, so they'll tell us if it doesn't work."
The retailer is running a trial at a food-only store in Amsterdam where a small e-boutique has been introduced.
Using a large 70-inch screen, a virtual clothes rail has been created enabling shoppers to browse real-length dresses and search for items from the screen, as well as email the details to friends.
Morrisons has installed Kiddicare kiosks into some of its stores and has tentative plans to leverage this technology into the wine aisle, following the recent launch of its online drinks site Morrisons Cellar, which stocks about 1,000 wines versus the 500 found in store.
"It's a good way to use kiosks to offer the full range in each store," says Morrisons commercial director of new business development Simon Harrison. "We can also use them as an education vehicle."
Following the Kiddicare experience, more in-store technology will be used to create a multichannel journey in Morrisons' stores, starting with wine.
Harrison says the retailer is "not beyond having QR codes" and believes such activities would add £150m to the present £450m of wine sales at Morrisons, with the majority of transactions completed in store.
Food retailers are also set to turn to 4G to improve their CCTV systems. Simon Gordon, founder of crime reporting service Facewatch, says: "Every single one is to centralise their CCTV - 3G was very clunky to send videos but with 4G and fibre optic, there are massive implications and all the big grocers are looking at networking their CCTV."
This will enable them to have a remote central point (a monitoring station) where all the CCTV footage is handled. Such a centralised arrangement could be fully leveraged by using the Facewatch solution that allows retailers to end the practice of sending video footage on discs to the police.
"We report incidents to the police online and also send information such as lists of criminals back to security guards on the shopfloor via their smartphones," explains Gordon.
This sort of application highlights that 4G will have a much bigger impact than just improving customer touchpoints in store. It also shows that store technologies are merely at the early stages of evolution.