Wage increases are finally outpacing price rises but the German discounters' bubble won't burst as UK counterpart Kwik Save's did.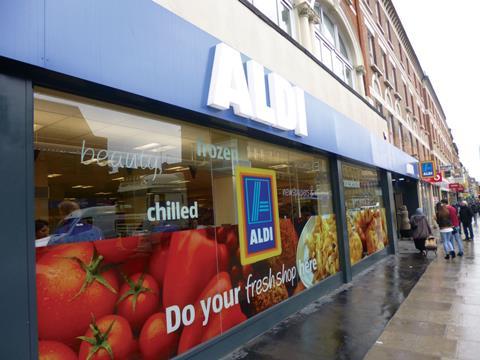 Twenty years ago Kwik Save had a market share of 5%, but was a mere also-ran just five years later.
So why is the Aldi-Lidl phenomenon any different? Here are 10 reasons why.
Wider demographic and geographic reach
Kwik Save was based on small stores in down-at-heel locations. It was even headquartered in Prestatyn, North Wales, which is a long way from Cheshunt – and not just geographically.
It never managed to widen its reach into more affluent areas in the way that Aldi and Lidl have. Perhaps if it had attempted to expand into more affluent regions prior to the post-recession recovery, as Aldi and Lidl have done, it could have been more successful.
Middle-class acceptance
Aldi and Lidl take great care not to make their customers feel like losers. When you shopped at Kwik Save, it was because you lived in a poor area, and while prices were cheap, the shopping experience was not one to savour.
The only time the middle classes ever got near to a store was in the lyrics of Mansun's 'Drastic Sturgeon'. Dinner parties in Islington did not include chatter about bagging some surprisingly excellent No Frills Chardonnay.
More sophisticated own-label offer
Kwik Save's key differentiator was that No Frills own-label. As its name suggests, it was seat-of-the-pants basic, but it succeeded as it predated the Tesco Value and its ilk.
When the big players introduced their basic, but far superior, own-label offers, Kwik Save no longer looked such great value. Both Aldi and Lidl have far more sophisticated own-label offers that Tesco, Sainsbury's and Asda continue to struggle to compete with.
Unlikely to suffer disastrous takeovers
Kwik Save was destroyed by outrageous mismanagement when it was acquired in 1998 by Somerfield, which tried to take the stores upmarket, rebranding many of them to Somerfield. Neither Aldi nor Lidl is a candidate for acquisition, both being privately, and very closely, held.
Consumer behavioural changes are entrenched this time
The recovery from the last recession has been far slower than the recovery from that in the early 1990s.
Many consumers switched to discounters a long time ago and so their behaviour has become entrenched to such an extent that it is not so likely that they will switch easily when they have more money.
In March Verdict surveyed 10,000 people and 82% said they had shopped at a discounter (in any sector). Only 9% of those said they would shop at discounters less if their disposable income increased, compared with 23% who said they would shop at discounters more.
No sign of new challengers
Kwik Save's demise was exacerbated by better discounters, such as Aldi and Lidl. With the international scale they both have, it is difficult to see how they can be challenged by new entrants in the way Kwik Save was.
No natural market share ceiling
The total market share of discounters in food and grocery now and in Kwik Save's heyday are similar, but there is no reason to think that we have reached a natural limit.
In Germany for instance, Aldi and Lidl account for almost 40% of food and grocery sales. While the UK is unlikely to conform to the structure of the discounters' home market, the growth plans of both in the UK show market share will continue to grow, albeit at a slower rate.
Privately owned equals long-term planning
Kwik Save was a public company. It was unable to develop the long-term strategies that Aldi and Lidl can because of the need to respond to the short-term demands of the City, which were also key to the erratic behaviour of its acquirer, Somerfield.
International success brings greater competitive power
Aldi and Lidl's success is not limited to the UK, as Kwik Save's was. Both the German discounters have replicated their success across Europe and indeed further afield. They have been able to develop scale, which enables them to go toe to toe with the likes of Tesco in the way Kwik Save never could.
Big players used to have big ideas, but not now
Kwik Save was largely confined to high street stores and was unable to respond when consumer behaviour changed. Shoppers were enticed by Tesco and Asda to new out-of-town superstores, with free parking, the ability to do a big shop and loyalty schemes, none of which Kwik Save could afford to emulate.
With consumer behaviour moving in a different direction at present, the big four do not appear to have any new ideas, and instead are themselves emulating Aldi and Lidl by reducing lines and cutting prices.
Patrick O'Brien is content director of Verdict Retail