Aldi has revealed surging full-year sales and profits and claims that the grocery price war has played into its hands.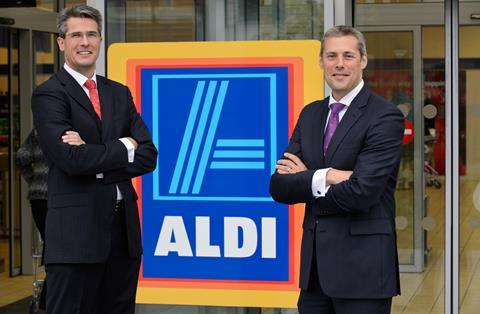 Aldi's UK and Ireland turnover rocketed 35.7% to £5.27bn while operating profit soared 57.7% to £271.4m in the year to December 31, 201. Pre-tax profit jumped 65.2% to £260.9m.
Aldi bosses said that growth has accelerated in the current financial year, despite the big four grocers slashing prices to claw back ground lost to both it and discounter rival Lidl. Last month Aldi attracted 1million more shoppers than August 2013.
Aldi joint managing director Matthew Barnes told Retail Week: "If anything the price war has benefited Aldi. With all the clamour around reducing the gap on Aldi, the psyche of the British consumer has been to examine what value means.
"And that's just played perfectly into our hands. The acceleration of our growth since the price war has begun is testament to the fact we are more than ever resonating with customers. We've invested an awful lot over the last six months to make sure we maintain our price position, and our price gap against the competition is as compelling as it's ever been."
After a drive to convince shoppers they can do their full weekly shop at Aldi, its average basket size of 17 items is now second only to Asda, which stands at 18.8, according to Nielsen Homescan Data.
Barnes said: "Data shows that, while our average basket size is only one or two items smaller than Asda and similar to that of Tesco's, our average basket is about £6 to £7 cheaper. We are confident that our prices are 30% to 50% lower than at the supermarkets, and this adds up to big savings for our customers on their weekly shop."
Joint managing director Roman Heini said: "We keep prices constantly low while keeping product quality consistently high, which is exactly what shoppers want.
"We work efficiently and responsibly to reduce operational costs. Rather than use these savings to boost margins, we lower prices at the checkout. "
Both bosses said Aldi had benefited from new store openings and a focus on fresh and British-sourced produce.
Reflecting its widening customer bases' growing appetite for aspirational products, Aldi will sell caviar (pictured) for the first time this Christmas, priced at £9.99 for 20g. Selling under its new tag line 'Christmas with all the trimmings', the caviar will sell alongside other premium products including fresh dressed crab, fresh lobster, a whole goose, and rib of beef.
Aldi will also launch its second tablet this Christmas following the success of the first one last year. The 10.1 inch Medion S10346 will "more than match the competition", Aldi said.
Its "high-end specification" includes an Android 4.4 operating system, KitKat OS, a full HD display, an Intel Quad Core processor as well as 32GB memory and a 2MP front-facing camera and a 5MP rear camera.
Barnes would not disclose what price the tablet will retail at but said: "In the past 12 months our experience of smartphones and tablets have been hugely positive. We certainly believe now with the economy and the market changing it's time for us to go for more of that. There are plans to do more and more of those lines going forward."
There will be limited stock available, and Aldi said that "once they're gone, they're gone".
Aldi will open 54 new stores in 2014, and plans a further 65 next year, which will take its store count to over 600. It intends to have 1,000 shops by 2022.