Aldi's sales densities have more than doubled since 2010 and the discounter has outstripped rivals among the big four.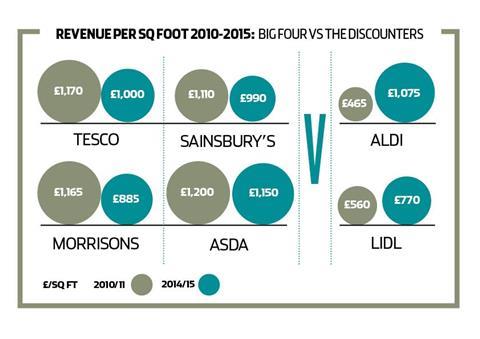 The findings came as the German grocer this week overtook Waitrose to become the sixth largest supermarket in the UK. It marked a meteoric rise for Aldi, which has gained ground at the expense of the big four.
Aldi's sales densities have overtaken Tesco, Sainsbury's and Morrisons, rocketing from £465 per sq ft during 2010/11 to £1,075 per sq ft in 2014/15, data compiled by Retail Week analysts showed.
Sales densities are a critical measure of store productivity and Aldi's rise shows its success is not simply the result of adding space.
Retail Week analyst Philip Wiggenraad said: "The extent of Aldi's improvement has been remarkable. Significant like-for-like sales growth has had a direct impact on its sales densities."
But he acknowledged: "Aldi was coming from a low base. Four years ago it was not living up to its full potential like it is today."
An Aldi spokesman said: "More people than ever are choosing to shop at Aldi. Our shoppers know they can buy their full weekly shop at Aldi."
Based on the grocers' 2014/15 full-year results, Sainsbury's sales densities for the 12-month period were £990 per sq ft, down from £1,110 in 2010/11. Morrisons declined from £1,165 per sq ft four years ago to £885 in 2014/15.
Tesco does not report its full-year results until later this month, but Retail Week estimated
that, based on its performance in the first three quarters of the year, sales densities for 2014/15 will be £1,000 per sq ft, £75 behind Aldi and down from £1,170 four years ago.
Wiggenraad said: "You would expect densities in stores to have been on a downward trend at the big four as online sales increase. However, the considerable declines experienced by Tesco and Morrisons reflect the recent underperformance of these businesses as well as the structural changes taking place in the sector."
Asda claimed the top spot, £75 ahead of Aldi, although its sales densities dropped from £1,200 per sq ft in 2010/11 to £1,150 per sq ft last year.
An Asda spokeswoman maintained: "We're focused on making sure our stores offer the best proposition for our customers and these figures back up this approach."
Lidl's sales densities were £770 per sq ft, up from £560 per sq ft four years ago.
According to Kantar figures released this week Aldi's market share increased to 5.3% in the 12 weeks to March 29, overtaking Waitrose, whose share grew to 5.1%.