Aldi has launched a counterattack on Morrisons by investing in a fresh wave of price cuts – and vowing never to be beaten on price.
The discounter has slashed prices across a number of core categories including fresh fruit and vegetables, fresh meat and other basket staples.
Aldi unveiled the raft of reductions this morning alongside a nationwide marketing campaign, which pokes fun at Morrisons' Price Crunch initiative.
The advert asks "is a price crunch amazing?" above a basket of Morrisons goods including Heinz Tomato Ketchup and Tropicana apple juice, which Aldi claims would cost shoppers £18.19.
It then proclaims "no, this is amazing" and points to Aldi's basket of comparable goods, worth £11.42.
Aldi's offensive came less than two weeks after Morrisons relaunched its Price Crunch initiative by slashing the prices of more than 1,000 items.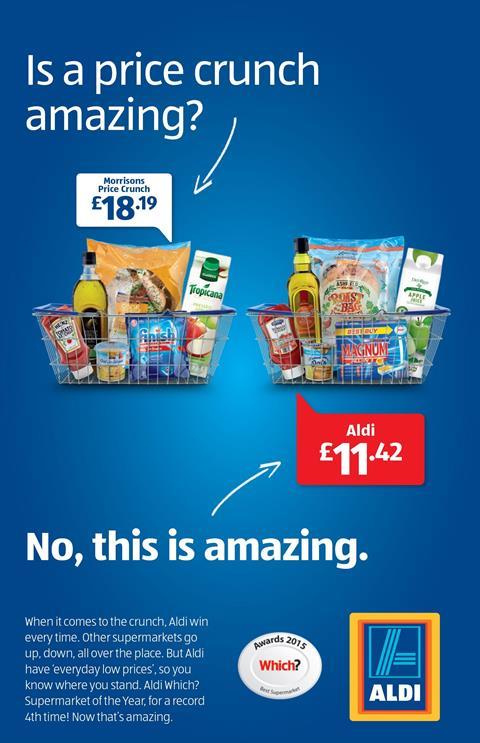 Morrisons' scheme will involve a rolling programme of price cuts throughout 2016, and lower prices will typically last a minimum of three months at a time.
The first round of reductions, which started on January 31, included lower prices on popular fresh fruit and vegetables such as peppers, broccoli, onions and potatoes.
Morrisons boss David Potts said the grocer was "cutting every penny we can" in a bid to reduce the price differential to Aldi and its discount counterpart Lidl.
But Aldi said its latest price investment will maintain a price advantage of up to 38% against its Bradford-based competitor.
According to the latest Kantar data, shopping at Aldi was 29% cheaper on average than its eight biggest grocery competitors.
Aldi UK boss Matthew Barnes said: "Our competitors continue to claim that they are closing the price gap.
"We think it is important to make it clear to shoppers that any challenge to our price leadership position will not succeed.
"Aldi remains Britain's lowest-priced supermarket by a significant margin and that is a position we will retain next month, next year and forever."

Matthew Barnes, Aldi
"Aldi remains Britain's lowest-priced supermarket by a significant margin and that is a position we will retain next month, next year and forever. While other retailers talk up price cuts and infuriate shoppers with misleading price-match schemes, we keep it simple with a consistent promise: whenever you visit Aldi, you're paying the lowest prices in Britain."
Aldi did not reveal how much it is investing in the price cuts, but Barnes insisted the reductions have been funded entirely by the discounter and not its suppliers.
"Our model is to agree secure, long-term contacts with suppliers to ensure they are paid a fair price and have certainty," Barnes added.
Aldi will open more than 80 supermarkets this year, taking its store portfolio to more than 700.
Last month it made its first foray into ecommerce after launching a transactional website selling wine. Its 'special buy' general merchandise offer will also move online later this year.