Aldi has set a new minimum price that it will pay dairy farmers for milk sold in its stores in a show of "support for the sector."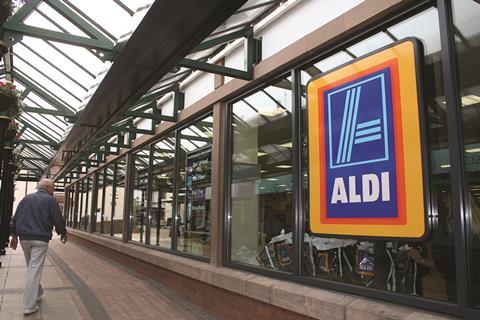 Aldi will pay suppliers 28p per litre of milk
Move brings it into line with supermarket giant Asda
Morrisons unveils new brand of cheese and increases payments to 26p per litre
Deveopments come following a string of protests by farmers across the UK
The discounter has revealed it will up the amount it pays its three milk suppliers to 28p per litre, which will come into force on Monday.
It brings Aldi into line with grocery rival Asda, hours after the supermarket giant unveiled its own intentions to pay farmers 28p per litre.
Asda's big four rival Morrisons has already said it will launch a new, more expensive brand of milk, which will see 10p per litre go directly to farmers.
Today Morrisons said it will launch a similar new brand of cheese, Milk for Farmers cheddar cheese, which will be priced at a retail premium of 34p per pack above its standard Morrisons cheddar price, with the equivalent of 10p per litre of milk going directly to farmers. The grocer is also increasing the minimum price it pays for liquid milk to 26p per litre "through the winter."
Aldi has become the third grocer in the UK this week to unveil measures to support farmers, following a string of 'milk trolley challenge' protests at supermarkets across the UK.
Trolleys were filled with milk and either paid for at the tills and handed out for free to shoppers outside, or dumped at the checkouts. Farmers also herded cows through Asda stores and blockaded a Morrisons distribution centre to draw attention to what they have labelled unfair treatment as the price of milk drops.
'Commitments to farming'
Aldi said it decided to increase its minimum price per litre to 28p following "proactive and positive discussions" with the National Farmers Union (NFU).
The move comes after Aldi became the first major UK grocer to sign up to the NFU's 'fruit and veg pledge' – a series of initiatives to support British producers.
Aldi managing director of buying Tony Baines said: "Aldi has wide ranging, long-term commitments to British farming and this new price agreement is the latest example of our support for the sector."
NFU National Dairy Chairman Rob Harrison added: "We welcome this commitment from Aldi as part of the company's wider support for British farming.
"Aldi has shown that it supports the farming community and has developed sustainable agreements with its liquid milk suppliers, in addition to its existing strong commitments to the farmers of Britain in fresh meat and produce.
"We will continue conversations with Aldi as to its position on cheese and other dairy products."
A Morrisons spokesman said: "This month we will continue discussions with our cheese processor about other initiatives that will help their dairy farmers.
"We hope that this offer along with the other initiatives we have announced this week will help our suppliers to better support British dairy farmers."