Aldi's latest promotional campaign counterattacking Morrisons' Price Crunch has been dubbed "misleading" and a "sign of desperation".
Analysts have slammed the discounter's latest marketing drive, which compares the price of Morrisons branded products to Aldi's own-label alternatives.
Aldi's advert, which launched two weeks after Morrisons unveiled price cuts on more than 1,000 products, asks "is a price crunch amazing?" above a basket of Morrisons goods including Heinz Tomato Ketchup and Tropicana apple juice, which the discounter maintains would cost shoppers £18.19.
It then proclaims "no, this is amazing" and points to a basket of Aldi goods, worth £11.42.
But Bernstein's Bruno Monteyne and Shore Capital analyst Clive Black have hit out at the move, claiming it has the potential to confuse and mislead customers.
And the duo suggested that the campaign was "a sign of panic" after Morrisons, Tesco and Sainsbury's won shoppers back from the discounter during the Christmas trading period.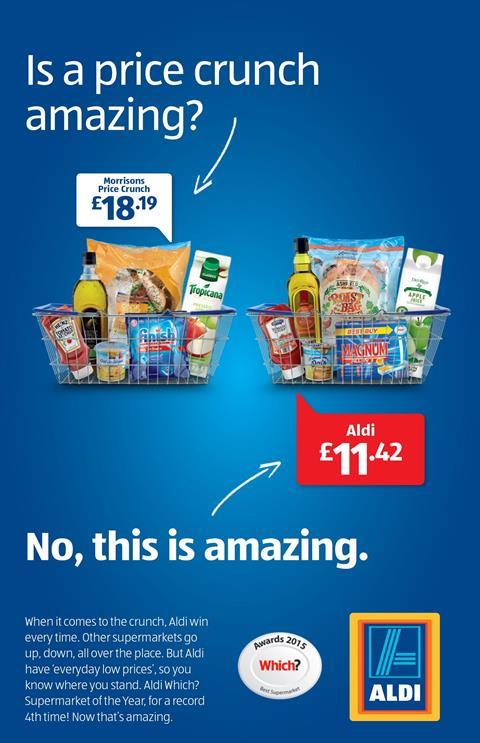 Monteyne said: "That Aldi is cheaper than Morrisons isn't disputed, but why the price leader needs to use misleading data in a disingenuous claim is revealing.
"The deception lies in Aldi comparing its own-label product with Morrisons' branded products. Morrisons also has own-label products that are much cheaper than its branded products and therefore customers don't need to go to Aldi if they want to save money by buying own-label products.
"It's no surprise that their own promotional material products were carefully selected to show Aldi at its best – all supermarkets do it in direct price comparisons – but what is a surprise is the extent to which they're stretching the facts to demonstrate their price premium."
'Panic' stations
Monteyne added the "defensive and arguably misleading" campaign was a sign of "panic" amid a big four fightback.
"It indicates a certain level of desperation if you need to use tactics like that," Monteyne said.
Black agreed that Aldi "appears to be rattled" after reacting so directly to the price investment of its competitors.
"Aldi's pronouncements may be a sign of stress that the superstores are indeed starting to slowly 'get their act together'."

Clive Black, Shore Capital
He said Aldi was starting to face "greater competition" from its grocery peers and said the discounter used "venom" within its price messaging.
Black added: "Aldi's price moves are really par for the course for us and so not a major reason for investors in UK grocers to be overly concerned.
"Indeed, what we believe is Aldi's skulduggery will not go down well with many British shoppers where being the shoppers' champion is one thing – being somewhat cute and misleading is quite another in our opinion.
"Aldi's pronouncements may be a sign of stress that the superstores are indeed starting to slowly 'get their act together'.
"That aside we sense the UK advertising authorities, the proprietary brand supply chain, the farmers and the superstore operators may like to also take a fresh look at Aldi's tactics."
Aldi boss Matthew Barnes said: "We believe the comparison is fair and our products are comparable to brands in terms of quality.
"Last year we won over 350 product awards and were second only to Waitrose in terms of the number of Which? Best Buys we were awarded.
"The fact is that customers wouldn't be coming to us in their droves if the product quality wasn't comparable. Our commitment is simple, on brand or own label, we won't be beaten on price. We will always be the cheapest."