Aldi's latest advert could face probe from Advertising Standards Authority
Discounter compares price of its own-label goods to Morrisons's branded products
Morrisons and other grocers have complained about the "misleading" ad
ASA is now mulling whether to launch an investigation
Aldi could face a probe from the advertising watchdog after grocery rival Morrisons complained about the discounter's latest ad campaign.
The German retailer launched a counterattack to Morrisons 'Price Crunch' initiative by slashing prices across a number of core categories and claiming it was more than 30% cheaper than its Bradford-based competitor.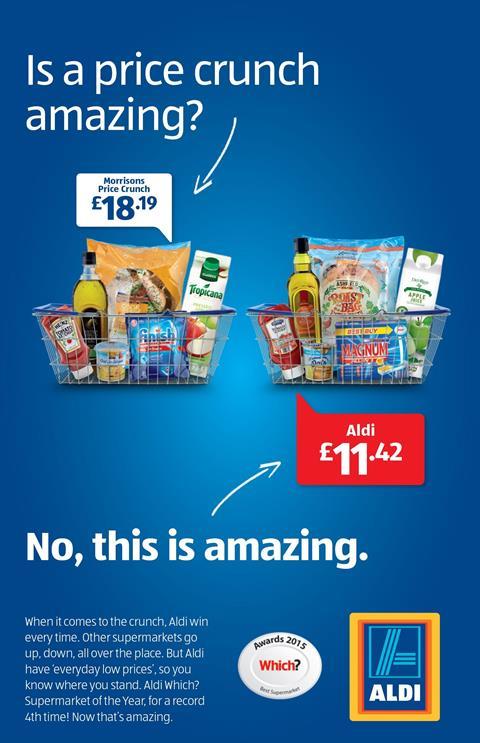 Aldi's boss Matthew Barnes said the price investment and accompanying advertising campaign was designed to show that the discounter's berth as the UK's lowest-priced supermarket was "a position we will retain next month, next year and forever."
But the move was slammed as "misleading" and "a sign of desperation" by analysts after Aldi compared a basket of its own-brand goods, totalling £11.42, to Morrisons' branded equivalents, which cost £18.19.
Bernstein analyst Bruno Monteyne said last month: "That Aldi is cheaper than Morrisons isn't disputed, but why the price leader needs to use misleading data in a disingenuous claim is revealing.
"The deception lies in Aldi comparing its own-label product with Morrisons' branded products. Morrisons also has own-label products that are much cheaper than its branded products and therefore customers don't need to go to Aldi if they want to save money by buying own-label products."
Shore Capital analyst Clive Black suggested that the Advertising Standards Authority (ASA) should take a look at Aldi's tactics, adding: "Aldi's skulduggery will not go down well with many British shoppers where being the shoppers' champion is one thing – being somewhat cute and misleading is quite another in our opinion.
"The comparisons are accurate, fair and fully compliant with the UK CAP codes"

Aldi spokesman
"Aldi's pronouncements may be a sign of stress that the superstores are indeed starting to slowly 'get their act together'.
"That aside we sense the UK advertising authorities, the proprietary brand supply chain, the farmers and the superstore operators may like to also take a fresh look at Aldi's tactics."
ASA response
An ASA spokesman said it was now assessing whether to launch an investigation into the discounter's contentious ad after Morrisons – and others – had complained, challenging "whether Aldi's comparison of exclusive own-brand products with premium branded products during Morrisons' 'Price Crunch' is misleading and presents an unfair and unrepresentative price advantage."
But an Aldi spokesman said: "The comparisons are accurate, fair and fully compliant with the UK CAP codes and ASA's regulations, and we are proud to have helped millions of shoppers across the UK to reduce their grocery bills."
It comes days after the ASA banned Tesco's Brand Guarantee advert following a complaint from big four rival Sainsbury's.
The watchdog ruled that Tesco had not made it clear enough that shoppers were required to purchase 10 items or more in order to qualify for potential price-match discounts on any branded goods bought.