99p Stores has unveiled rising profits and is preparing to expand its grocery offer in its biggest investment programme.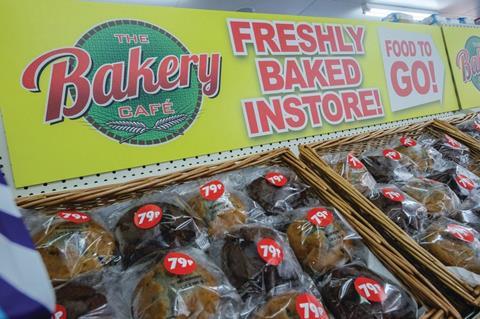 The single-price retailer has introduced fresh produce in recent weeks, including bagged fruit and vegetables, as it aims to take on convenience supermarkets.
The push follows the trial of a coffee offer and bakeries that sit alongside a grocery range including cheese, butter and ham.
99p Stores chief operating officer Tony Brown told Retail Week: "I believe we are fundamentally changing the single-price-point customer proposition.
"It's more mainstream, so we have to sell what the mainstream wants.
"We're experimenting with fresh produce – including pre-prepared veg. Our store of the future will have a bakery, coffee offer and fresh produce. We're testing customer sensitivity to new products."
The retailer is investing about £4m in the business in the next 12 months, including in merchandising and till systems, which Brown said will drive efficiencies. It is also investing in stores and people. "It's the largest year of investment and change in the business," he said.
"We have to invest significantly to support our growth ambitions. We are setting this business up for the future."
Confidence to invest in change
99p Stores' EBITDA rose 23% to £6.1m in the year to February 1 on sales up 8.5% to £370m.
Operating profit was £400,000, compared with a £100,000 loss the year before.
Gross profit margin improved to 21.5% from 20.7% "demonstrating good cost control and improved buying-in margins, despite upward pressure on raw materials and wages", 99p Stores said.
99p Stores has tried out a new store format that will be rolled out to 60 stores this year and a further 90 next year.
The format includes improvements to the chilled section and in-store navigation as well as the coffee offer.
"We've seen what getting it right looks like and that's given us the confidence to invest in fundamental change," said Brown.
The 250-store retailer is opening new stores and is targeting 350 by the end of 2017 and 400 in total. It also plans to launch its first ecommerce venture next year under the multiprice 99p Stores Plus brand.
"We've got the model right, we're now stress-testing it," Brown said.
The retailer is rolling out a further four to five 99p Stores Plus shops before Christmas.
At present it operates from 1.8 million square feet of trading space.
Brown said he 99p Stores is "set for a good Christmas".