When Rowan Gormley took the driver's seat at Majestic Wine almost two years ago, chairman Phil Wrigley claimed he'd handed him "the keys to the Ferrari".
Speaking to Retail Week back in April 2015, Wrigley described the Naked Wines founder as the man who would "burn it round the track".
But what Gormley perhaps wasn't fully prepared for at the time was the sheer amount of work he would have to carry out under Majestic's bonnet.
"The company's mojo was low. Everyone could see the numbers and there had been a whole lot of people changes. Everybody knew something had to happen, but they weren't quite sure what"

Rowan Gormley
"It was like having a Ferrari which had the wheels taken off and been up on bricks for about 100 years," Gormley says with a chuckle.
But there was little laughter at Majestic when the South African entrepreneur first stepped through the door of its Watford headquarters.
Casting his mind back to the sombre mood he walked into on day one, Gormley recalls: "It was like a cathedral.
"It was so quiet out there that when I walked up to people's desks to talk to them, they would whisper to me. We had to put music on just to create some noise.
"The company's mojo was low. Everyone could see the numbers and there had been a whole lot of people changes. Everybody knew something had to happen, but they weren't quite sure what."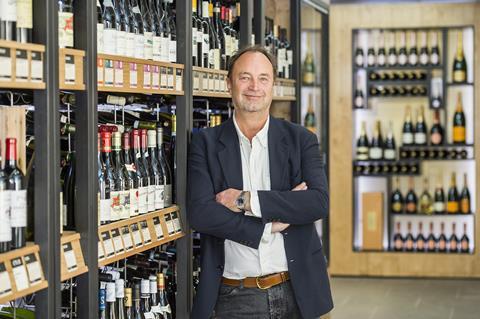 'Underpaid, overworked and treated like monkeys'
Gormley, a man as bubbly as the Champagne he sells, it was a tough atmosphere to swallow, but things have since changed dramatically.
Gormley has ushered in a new leadership team to rejuvenate Majestic's retail division, spearheaded by former B&Q executive John Colley, whom he hails as "a big part of the people side" of the business.
"When I first arrived, I sent an email to everyone saying: 'Tell me what you think we should be doing'," Gormley explains.
"One guy wrote back and said: 'We're underpaid, overworked and treated like monkeys', so that's a nice summary of what we've changed."
Gormley and Colley have altered the Majestic pay structure – including bringing in an uncapped bonus scheme – invested heavily to remove "boring manual work" and given its best store staff "more authority, more discretion and more decision-making ability" in stores.
The Majestic boss has also moved Majestic's focus – as well as £8m of capital expenditure – away from opening new stores and into acquiring and retaining customers.
Investments include a big push into making the business multichannel.
Majestic has launched click-and-collect, which offers next-day delivery to stores on 1,200 wines, and there are plans in place for a new website and mobile platform, new IT systems, a data warehouse and a call centre over the next two years.
Smells like team spirit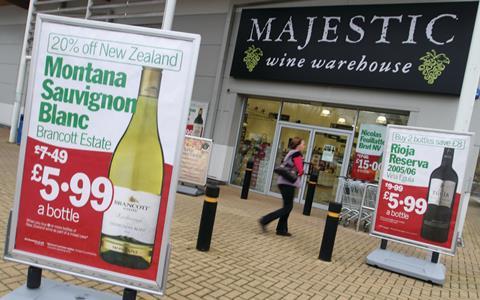 At its head offices, a smart-casual dress code has been implemented, with suits and ties making way for jeans and polo shirts, while regular team breakfasts have boosted morale and created a palpable team spirit.
But, as Gormley jokes, not everyone is happy with the changes.
"The guy who runs our St Albans branch is very articulate and he gave me a list of all the things that needed to change," the father-of-three reveals.
"After six months I went back and said: 'I think we've finished your list. What more needs to be done?' We were still packing bottles on boxes and he said that manual labour was backbreaking. So we put shelving in – revolutionary, right?
"The next time I went there, I bumped into his wife, who complained that he's now getting fat."
Bumps in the road
However, Gormley's Majestic turnaround has not been all plain sailing.
Despite adding some sparkle to its sales – group revenue jumped 13.2% to £205.6m in the six months to September 26 last year and total sales surged 15.3% over Christmas – Gormley has warned the City that it will miss profit expectations for the year to April.
Gormley explains two issues have taken their toll on profits and have left a bitter taste in his mouth: the disappointing performance of Majestic's commercial arm, and a stuttering marketing campaign from Naked Wines in the US.
Detailing what went wrong across the pond, Gormley says: "It was direct mail, a good old-fashioned letter through the box. We'd actually been testing it for 15 months and got some pretty good results."
However, Gormley says as it scaled this marketing to a national campaign, changing the creative to abide by different state laws had a "completely disproportionate effect" on its return on investment.

"Our mistake was going too big too soon, but we've learnt from that," assures Gormley.
Like a Virgin
With entrepreneurial blood in the family veins – his daughter Phoebe's firm Gormley & Gamble was the first female tailor on Savile Row – Gormley has never been shy of the test and learn school of thought.
That approach was enhanced under the tutelage of Sir Richard Branson at Virgin, where Gormley ran Virgin Money and later Virgin Wines, having previously spent seven years in private equity.
Smiling as he relives his time working with Branson, Gormley says: "He was fantastic fun. And the best thing about him was that he believed anything could be done.
"About ten years ago, I was on Richard Branson's island in the Caribbean and I jumped out of a two-storey building onto a trampoline…"

Rowan Gormley
"His assumption was: 'Start an airline? Yeah, we can do that, definitely. And we can make it better than everyone else's. And no we don't need to know anything about the airline business.'
"You just had this amazing self-belief."
But the Cape Town University graduate bears genuine physical scars of working alongside Branson.
He roars with laughter as he tells the tale of a historic injury that landed him in hospital.
"About 10 years ago, I was on Richard Branson's island in the Caribbean and I jumped out of a two-storey building onto a trampoline," he says, shaking his head.
"I didn't think it through properly and I didn't figure out that, because I had forward momentum to reach the trampoline, when I went back up two storeys I just kept going and didn't have a very soft landing.
"It was bad for a few weeks, but I recovered from it. But 10 years of getting older and fatter eventually came back to haunt me."
A riesling to be cheerful
As well as some considerable pain, those years have also brought wisdom and, despite now competing against the likes of Tesco, Sainsbury's, Waitrose, Aldi and Lidl, Gormley is expecting big things for Majestic.
"I was wrong about Brexit, I was wrong about Trump, so I don't want to make an idiot of myself a third time! I have absolutely no idea what the future holds," he admits.
"But if you take a look at Germany, where the discounters came from, the market is really polarised. The majority of wine sold in Germany is sold through the discounters, with narrow ranges and no service.
"But then you have wine specialist stores that are extremely healthy. There's a very vibrant specialist sector."
Gormley expects the UK market to follow suit. "I think the middle ground, selling not particularly special wines at not particularly special prices in supermarkets, will suffer. The discounters and the specialists will be the winners," he says.
If Gormley's first two years in the job are anything to go by, you wouldn't bet against him – and his more finely tuned Ferrari – fulfilling that prophecy.
Behind the Counter
Who is your biggest inspiration?
Richard Branson, very unoriginally.
What's the last book you read?
Chaos Monkeys – the story of how Facebook figured out its business model.
What's the last TV series you watched?
David Attenborough's Planet Earth 2.
What's the last film you watched?
Nocturnal Animals.
Who is your favourite band or artist?
Black Keys.
What was your last purchase?
Edible treats from Earsham Street Deli in Bungay.