Christmas brings an abundance of opportunities to inspire, entice and charm consumers, but how can retailers stand out from the crowd?
With the golden quarter well under way, Retail Week looks at five key ways retailers can stand out this Christmas:
1. Continue the story
Some retailer adverts are loved by consumers year after year. Keeping the campaigns connected each festive season means customers know what to expect from their favourite retailers, but still look forward to seeing the next instalment.
Since 2016, Aldi's Christmas campaign has revolved around diminutive hero Kevin the Carrot – a character that has come to define the discount retailer's festive period across multiple media.
"Aldi's Christmas world surrounds Kevin the Carrot – from social media to recommendation sections online, and from meet-and-greets to plush toys, which sell out each year"
Each year, Kevin's Twitter account is abuzz from November to January, teasing content from the next saga of his life.
Aldi's Christmas world surrounds Kevin – from social media to Kevin and wife Katie's recommendation sections online, and from life-size in-store meet-and-greets to plush toys, which sell out each year.
In 2017, according to Bolton News, Aldi's Horwich store sold out of its stock of 200 Kevins in just 10 minutes. The most expensive large Kevin toy retailed at just £19.99, but the toys later appeared on Ebay for more than £1,000.
This year, Aldi even placed an advert in The Times prior to the release of its video campaign, proclaiming the disappearance of Kevin and encouraging Twitter users to help find him.
Kevin's story and the associated media keep both adults and children invested in Aldi's Christmas spirit.
2. Print isn't dead
While 50% of consumers will look online for their Christmas shopping, according to research agency Walnut Unlimited, the catalogue is having a renaissance if Argos' Christmas advert is anything to go by.
Depicting its catalogue as the 'Book of Dreams', Argos' campaign focuses on the nostalgia of circling a desired gift in the paper version and the possibilities it holds.
Argos has also created a dedicated website displaying catalogues from past decades for customers to peruse and compare to today's iterations.
When it comes to food inspiration, Waitrose uses a combination of print media, including its monthly magazine, recipe cards and a Christmas food catalogue from which customers can pre-order festive treats for parties or a turkey for the big day.
Adding a print element to a campaign is arguably one of the best ways to remain visible as a family prepares for Christmas.
Catalogues and recipe cards can be picked up to provide inspiration and ideas for the home without having to scour the internet.
From Waitrose to Boots, Argos and The Book People, catalogues remain a staple for Christmas food and gift inspiration.
3. Break from tradition
Each year, John Lewis releases one of the most anticipated television adverts, signalling to many the beginning of the festive season.
The department store retailer has also gained a reputation for predicting and setting Christmas decoration trends each year, offering new themes and colours for the tree, table and house.
In 2018, John Lewis broke from tradition to create an ombré rainbow trend, which was replicated by other retailers.
"John Lewis has also gained a reputation for setting Christmas decoration trends each year, offering new themes and colours for the tree, table and house"
This year, its seven trends include non-traditional colour schemes, such as autumnal tones, rose-gold and blue.
Consumers looking to switch up their Christmas colour palettes can turn to John Lewis' themes for inspiration.
4. Window shopping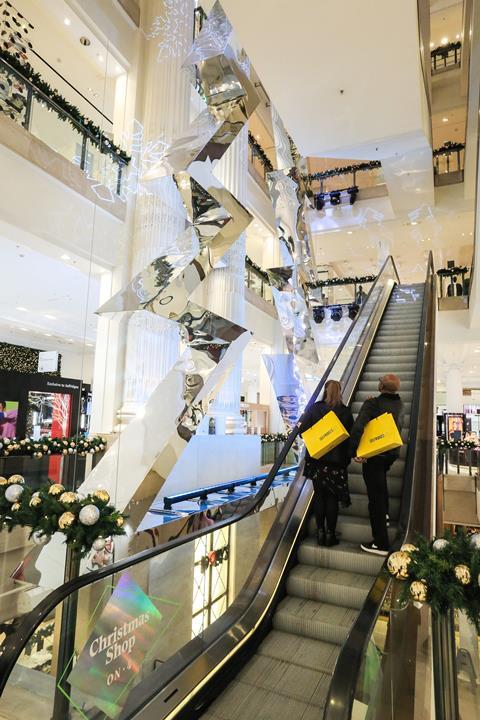 Christmas window displays are essential for enticing shoppers into store on a whim.
Department stores across the country have already revealed their displays for this year.
Selfridges' 'Future Fantasy: A Christmas for Modern Times' theme forms the basis of its campaign, creating tech twists on fairy tales, and is on display in its London, Manchester and Birmingham shop windows.
Each display at the store depicts an alternative version of a well-known fairy tale.
For example, Rapunzel's aluminium hair curls around her glass tower, accessorised with oversized, on-trend pearl hair slides.
The Sword in the Stone becomes The Sword and the Streetwear with menswear set atop a glittering stone.
The Princess and the Pea's mattress glows neon green, with a giant pearl pea underneath.
And Cinderella's forgotten glass slipper is, instead, a glass trainer.
Selfridges extends the contemporary retelling of traditional stories to its Christmas advert, creating a modern celebration that moves from dinner to gift-giving round the tree to a rave-like party – all complete with silver and white accents and strobe lighting.
Selfridges opened its Christmas shop-in-shop 149 days before Christmas, on July 29, and revealed its windows 69 days before the big day, on October 17 – reportedly the first store in the world to do so this year.
Yorkshire tearoom and chocolate retailer Bettys, meanwhile, marked its 100th festive window with an entirely edible Edwardian Christmas street scene, made out of more than 55kg of sugar paste.
Every year, Bettys reveals its window and Christmas product ranges, many of which feature in the display, at a festive event complete with mince pies and mulled wine.
A miniature version of the main Harrogate street scene was also replicated for each of Bettys' other stores.
From winter fashion inspiration at Primark to toyland displays at Hamleys, shop windows are key for drawing customers in for gifts – both for others and themselves.
5. Confound expectations
It's clear that a 2019 Christmas goes beyond the standard festive fare to stimulate consumers' inspiration.
The Ikea advert, released on November 8, features a home makeover with inexpensive Ikea goods to "banish house shame" ready for a Christmas dinner.
"Ikea's first foray into Christmas adverts caused a stir on Twitter as its soundtrack was voiced by grime artist D Double E"
The furniture retailer's first foray into Christmas adverts caused a stir on Twitter as its soundtrack was voiced by grime artist D Double E.
Twitter users applauded Ikea's choice, with some even dubbing it the winner before all the other adverts had even been released.
By going against the general Christmas grain, Ikea showed how the right marketing strategy can win new customers.