A decade ago Mulberry was in the financial doldrums, now the luxury retailer is hitting the headlines for all the right reasons. Rebecca Thomson talks to the man behind the turnaround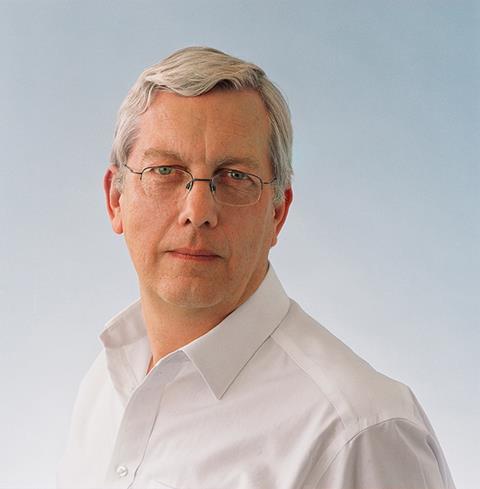 Godfrey Davis
Family Married with two children
Enjoys Fly fishing

Godfrey Davis is the reluctant star of luxury retail - he's not keen on press interviews and would rather spend time with his grand-daughters than attend one of Mulberry's after-show parties - but the spectacular success his company is enjoying at the moment means the limelight is getting harder to avoid.
Davis has been with Mulberry for decades, but it was only in 2002 that he took centre stage. The year before, Mulberry had suffered losses of £1.7m a year. While its reputation for good design was solid the company was foundering financially, and its main shareholder Challice - owned by Singaporean billionaire Christina Ong and her family - was getting impatient.
Fast forward 10 years, one boardroom coup and several 'It' bags later, and Mulberry is making headlines for different reasons. The former finance director Davis has been credited with its turnaround, which last week saw
it reveal a pre-tax profit increase of 358% to £23.3m in the year to March 31, 2011, up from £5.1m. Its market capitalisation is now higher than household names such as Mothercare and Dixons.
Career history
2002 Became Mulberry chief executive
1987 Joined Mulberry as finance director
Previously He was an international partner with Arthur Andersen where he worked for 15 years
It was handbags at dawn when Davis took the hot seat at Mulberry. Ong called for the removal of former chairman and founder Roger Saul and Davis, then vice-chairman and former chartered accountant, stepped into his shoes.
Davis had to switch allegiances, removing his support from Saul to side with Ong and vote him out, but the luxury retailer's subsequent success is perhaps consolation for the difficult decisions that marked the beginning of his leadership.
Described by some City analysts as the "perfect English gent", Davis' management style is said to be collegiate. The relationship between the corporate and creative sides of the business is strong, with creative director Emma Hill credited with producing the retailer's biggest seller to date, the Alexa bag.
Finncap research director David Stoddart says Davis is known for asking people's opinions before making big decisions. "In some ways he has to," Stoddart says. "His own background is financial. One of the reasons for the company's success is that it hasn't lost sight of the financial imperatives. It hasn't got carried away on some design crusade."
Davis' wisest move, Stoddart says, was immediately dealing with the company's idiosyncratic distribution arrangements. Mulberry's problems were myriad - there was no control of expenses and little strategic thought, but it was its messy distribution that most needed urgent attention. Not only did Davis have to spend the first years stabilising the business and convincing staff and investors that things would improve, he had to overhaul its distribution network.
"He replaced it with something much better designed and resourced," says Stoddart. "That's what has allowed the current growth and the growth that we expect to happen."
Breaking into China is on the growth agenda. Not an easy task for a smallish business from Somerset, but Davis has made sure the structure to enable that to happen is in place and there are plans for 20 stores across the country over the next five years.
Mulberry has also made inroads into the US, the Middle East and Europe, and Davis' aspirations are certainly high. "There's not a place in the world where the brand doesn't work," he told Retail Week earlier this year. "It's because it's different, and it's the Englishness." The company may be starting from a small base when compared with luxury giants like Burberry and Prada, but its ambition is to become the equal of market leaders like these.
When compared with its luxury counterparts Mulberry's bags are competitively priced, and Davis thinks this will help the brand appeal to an even wider audience. The strategy is to be patient, but to steadily increase the number of people who love the brand and want its products.
As Stoddart says: "Its aspirations need to be pretty big now. It has created a set of pipes that can blast products all across the world. The next step is to expand to fill those pipes."
And Davis will no doubt try to do it all while maintaining his privacy.