US private Sale giant Gilt is making a play for the UK market, which it believes will be its top performing overseas territory as it launches international shipping.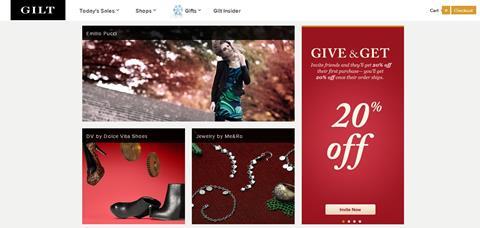 Kevin Ryan, founder and chief executive of Gilt – which is on track to turn over $750m (£481.4m) this year – said the UK is its biggest opportunity. He believes none of the existing players had yet taken control of the market.
Gilt will be competing with established players Brand Alley and Cocosa, which was acquired by Mohamed Al-Fayed in July.
Gilt launched international shipping in 90 countries, including the UK, last week. It expects international revenue to approach $100m (£64.2m) in its first year.
The etailer has debuted in the UK with discounted womenswear, menswear, kidswear, homewares and travel.
Deliveries will be made to the UK in seven to 10 days.
Ryan said he will watch trade closely over the next six months before taking a decision on whether to open a UK office and European distribution centre. One option would be to buy a European private Sales site to take advantage of its infrastructure in the region.
Ryan expects consolidation in the global private Sales market and predicts only 25% of the existing players will still be operating in three years' time.