WHSmith said group pre-tax profit increased 4% to £73m in its half-year but the retailer's group sales continued to drop.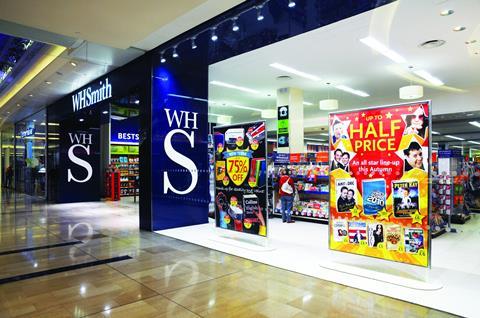 WHSmith's total sales fell to £611m in the six months to February 28, down from £613m a year earlier. Like-for-like sales fell 2%.

The retailer's sales continued to be hampered by its high street arm, which saw total sales sink 5% while like-for-like sales were down 4%.
WHSmith chief executive Stephen Clarke said the retailer's high street sales dropping was in line with its strategy as it prioritises long-term profitability over short term sales growth.
Like-for-like sales have declined for ten years in the high street business, while profit has increased every year for the last decade despite the like-for-like sales drop.
The retailer is redeploying its space into higher margin categories at expense of lower margin categories.
Clarke said: "We would rather sell £10 of stationery rather than £20 of newspapers because the margins are so much higher."

It said cost savings of £6m were made in the period, with a further £5m "identified in the second half". It operates from 621 high street stores.

WHSmith said it made "good progress" with its trial of franchising to local newsagents under its WHSmith Local brand. Following a trial of five, 22 stores have now converted under this new name.

On the 20 Cardmarket trial stores it opened in November, WHSmith said "performance varies by store". It added that the trial was ongoing.

In comparison to the high street, WHSmith's travel division saw growth, with total sales up 7% to £32m, and like-for-like sales rising 3%. The retailer said it will open 25 new units in the UK this year. As of February 2015, it operates 740 travel stores in the UK and internationally.
Meanwhile, Clarke said the retailer's Funky Pigeon online business is "growing fast" and traffic has increased by 20%. He added the business is profitable but the business is still too small for the retailer to break down numbers separately for it.

Gross margin improved by 120 basis points.

The chain revealed it had increased its interim dividend by 12%.

Clarke said: "The group has delivered another strong performance. We are seeing improving trends across all formats in travel, and in high street our profit focused strategy continued to deliver over the key Christmas trading period.

"Looking ahead, we will continue to focus on profitable growth and cash generation while investing in new opportunities in both travel and high street that position us well for the future."