Like-for-like up 3.3%
Sales up 5.6%
Gross margins "maintained"
Tofs sales grew this Christmas, driven by seasonal products and a greater focus on local service.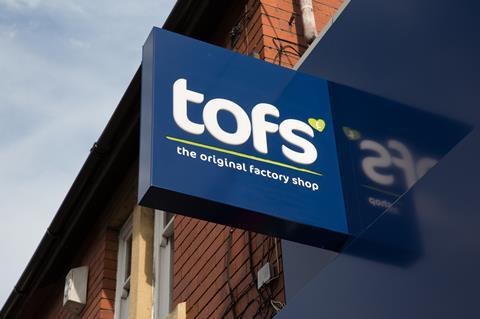 Tofs, which is rebranding from The Original Factory Shop, reported like-for-like growth of 3.3% and a 5.6% increase in total sales in the six weeks to January 8.
The retailer said that gross margins were "maintained" year-on-year.
Seasonal products such as decorations, gifts and toys were up 14%, while general merchandise was up 6.6%. Fashion rose 3.2%.
Tofs said that it had initiated a drive for local stores to be more autonomous, tailoring trading and visual merchandising to different communities.
Tofs boss Tony Page said: "We've worked hard, through a number of initiatives, to empower our store teams to engage with their local community and trade stores as if the stores were their own. I'm pleased to say that gave us good momentum.
"It has been an interesting year for retail and while further challenges lie ahead for the sector, we feel well-positioned as a proposition to continue to appeal to our customers in a unique and local environment".
Tofs, which has 217 stores, posted a 6.3% increase in EBITDA before exceptional items to £15.1m in its full year to March 27.
Sales jumped 5.9% to £184.5m and like-for-likes crept up 2.6% during the period, despite "significant" investment and "challenging market conditions".
Tofs recently appointed former Matalan and New Look exec Alistair McGeorge as its new chairman.