The Works has racked up "significant additional costs" to shore up its supply chains for the crucial golden quarter but insisted full-year profits will be in-line with market expectations.
The retailer said it was being affected by "shortages of ocean freight and UK haulage capacity" during the countdown to Christmas, despite investing to secure its supply chain earlier this year.
But The Works added that it expected "to have the stock we need in order to achieve our sales plans" and said early Christmas sales had been "positive", with "signs that customers are shopping early" for the festive season.
In a bullish trading update to the City, The Works said sales in the first half of its fiscal year had been "stronger than expected".
Like for likes jumped 14.5% during the 26 weeks to October 31 compared to pre-pandemic levels, while total sales were up 17.9%. Online sales doubled on the same two-year basis.
The Works said growth had been buoyed by the number of families taking 'staycations' amid the international travel restrictions imposed during the pandemic.
It added that it had delivered a "strong" performance during the back-to-school season.
The Works, which sells books, stationery, arts, crafts and toys, refocused its strategy in July as boss Gavin Peck, who took the reins in January 2020, sought to make the business "better not just bigger".
The blueprint rowed back on store openings to drive digital growth and improve the retailer's existing shops.
The Works hailed "good progress" against its strategic plan, highlighting improvements in ranging and merchandising in the arts and crafts category, better space management in stores and improving product availability.
The retailer trades from 526 stores having opened three new shops during its first half, closing five sites and relocating four others.
Peck said The Works was "cautiously optimistic" going into the Christmas period and added: "It's clear from these results that our products resonated extremely well with customers during the pandemic, helping them to read, learn, play and craft through lockdown.
"Our strong sales in recent months demonstrate that demand has been maintained and customers continue to value our offer. It's particularly pleasing to see that whilst our online sales continue to run at almost double their pre-pandemic levels, store sales are also growing."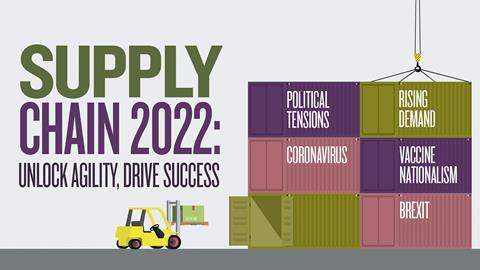 Retail Week's Supply Chain 2022 report, produced in association with supply chain experts Bis Henderson Consulting, GreyOrange, Intersystems and Snowflake, provides the blueprint for retailers looking to sustain growth and achieve success in these new ways.
Access the report here today to:
Finesse the first mile and navigate the warehouse space race
Understand how to win the final mile – and whether rapid delivery is the be-all and end-all
Future-proof your supply chain against the global backdrop
Learn how to adopt sustainability into all aspects of your operations
Discover the role of strategic alliances in making retail supply chains more resilient