Buyers circle as Clinton Cards follows Game and Peacocks into administration.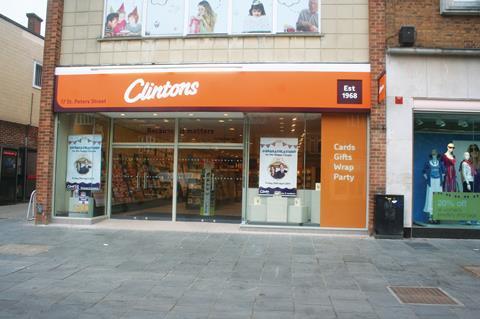 Mass store closures loom at collapsed retailer Clinton Cards as suitors including Card Factory and OpCapita circle the business, which hit the buffers this week.
Up to 300 of Clinton Cards' 771 stores could close in any deal done between potential buyers and administrator Zolfo Cooper, sources close to the situation indicated.
Although Zolfo Cooper declined to comment on numbers, its joint administrator Peter Saville said: "It is likely that a number of stores will need to be closed."
Sources told Retail Week that rival Card Factory as well as private investment firm OpCapita, which owns Game and Comet, have approached Zolfo Cooper. GA Europe is also thought to be interested in the Birthdays chain.
Clinton Cards was tipped into administration, jeopardising around 8,000 full and part-time jobs, after its largest supplier American Greetings acquired the retailer's £35m debt from banks Barclays and Royal Bank of Scotland. American Greetings – owed $25m by Clintons – called in the debt, which the retailer was unable to pay, and subsequently Clintons hit the wall.
A source close to the situation said Clintons' management were "shocked" at the decision.
The US-based company said it stopped supplying the retailer because it defaulted on payments.
American Greetings chief executive Zev Weiss said his firm "may ultimately participate in the ownership of the business".
Weiss said: "We would like to see Clinton Cards continue as an important retailer in the UK greeting card market. We expect that our recent investment will allow us to work closely with the administrators. We believe that properly managed, and with the appropriate capital structure, Clinton Cards could be both an important and profitable retailer."
Saville was confident Clinton Cards is "an attractive proposition for a range of potential buyers". It is expected private equity firms may cast their slide rule over the retailer, because of its market-leading position. One source familiar with the market said there is "loads of potential online and overseas through franchising to English-speaking countries".
The source speculated that Hallmark could launch a bid to protect its business as one of Clinton Cards' key suppliers. "Do you think Hallmark will stand back and let this happen?" he said.
It remains unclear whether founder Don Lewin may attempt to wrest back control.
The struggling retailer's chief executive Darcy Willson-Rymer was due to reveal findings of a strategic review that included a proposed CVA to shut stores.
Clinton Cards has reported falling sales and profits after being battered by supermarkets, online specialists and rivals such as Card Factory.
Clinton Cards timeline
1968 Founded by chairman Don Lewin in Epping, Essex
1988 Floats with 77 shops
1994 Acquires 83 stores from Hallmark Cards to take its portfolio to 360
2004 Acquires Birthdays
2011 Darcy Willson-Rymer becomes first chief executive from outside the Lewin family and begins business review
May 2012 Collapses into administration