Smiggle to ramp up UK growth by opening one store per week
Stationery retailer also plans click-and-collect roll-out
Boss John Cheston declares: "We are here for the long term"
Australian retailer Smiggle is hitting the accelerator on its UK expansion amid plans to open one store per week during the next three years.
The children's stationery specialist currently has 43 stores across the country, including shops in Westfield London, Bluewater, Trinity Leeds and Birmingham's Bullring.
But on the eve of the two-year anniversary since its British debut at Westfield Stratford, Smiggle boss John Cheston told Retail Week its rate of growth would more than double amid a strategy to secure around 250 stores in the UK.
Smiggle aims to hit the 100-store mark on these shores by Christmas, and has sights set on 160 branches by the end of 2017, and at least 220 by Christmas 2018. Property agents Harper Dennis Hobbs and MMX Retail are representing Smiggle in its hunt for new stores.
The retailer, which operates stores in Singapore and New Zealand as well as its homeland, will also press ahead with plans to roll out a click-and-collect proposition after being "surprised" by the success of its online business.
Accelerating expansion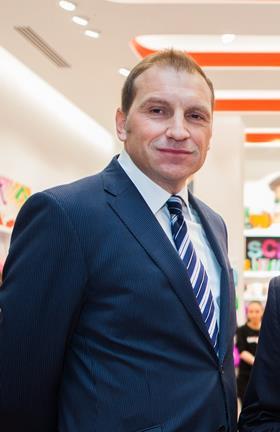 Speaking to Retail Week at its Westfield London store, Cheston said: "The biggest testament to how the first two years have gone is that we have committed to opening, and have opened, a lot of stores – and we are ramping it up even more.
"We've put the foot down even further and you wouldn't do that unless you were either very foolish or very happy with the results of the business.
"Put simply, we will open one store a week until we get to around 250-260 stores."
Cheston said its fledgling online business, which launched last April, accounts for a bigger percentage of revenue in the UK than it does in Australia.
He admitted that the pick-up had "surprised us, in a very favourable way" and had prompted Smiggle to explore a click-and-collect proposition.
"We've put the foot down even further and you wouldn't do that unless you were either very foolish or very happy with the results of the business."

John Cheston, Smiggle
Cheston said: "We launched the transactional website in April last year and because the pick-up has been so good, we're investing more money into the next advancements and development, which will include click-and-collect."
When asked to put a timescale on the roll-out, Cheston refused to set specific targets, but insisted it would "be coming pretty soon."
"We will roll out click-and-collect but our commitment is to bricks-and-mortar stores," he added.
"Kids don't have a credit card to spend online and they like coming into stores and interacting. If you're trying to demonstrate a colour-changing pen or an interactive clock, you can't do that online."
UK research
Cheston attributed Smiggle's success in the UK to the amount of "homework" it did on the market before entering, as well as its innovative and regularly changing product range.
He said: "I cannot over-emphasise the amount of work we did to make sure that when we launched here, we felt we were going to be a success.
"This wasn't us putting our toe in the water to see how it is – we had done the most phenomenal reconnaissance on the market, the competition, the pricing, what percentage of kids go to private or state schools and when they go to state school are they allowed to take a branded backpack?
"The level of research was first class. We spent a lot of time on trips to visit shopping centres at the weekend, walking those centres to make sure we felt we were right for them."
Cheston added: "The plethora of newness that we bring in is pretty unprecedented and that's how we succeed. If a kid comes in with £5 pocket money and thinks: 'I saw that last week, it's the same product, I don't really want it,' I'm never going to succeed.
"We have delivered to landlords what we said we were going to deliver. We have never missed a deadline on opening, we have never under-invested in a store, we have never pulled out of a deal – and that's because we are here for the long term."