Shop prices fell once again in the first week of September, driven by falling fashion prices, according to the BRC Nielsen Shop Price Index.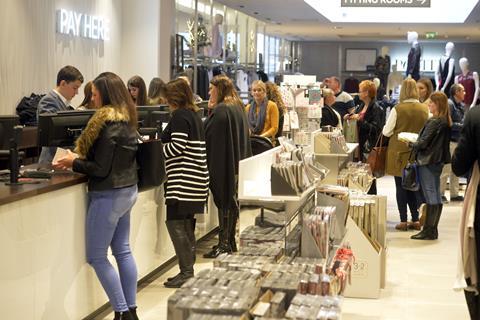 Overall the fall in prices amounted to 1.8%, compared with a 2% fall in August.
This was led by clothing and footwear prices falling 6.5% year-on-year during September 5-9. This is a slight deceleration of deflation from August, when prices dropped 6.8% year-on-year.
Outside clothing, the picture was less dramatic. Electricals experienced the next highest deflation, falling 2.9%, while health and beauty fell the least, at 0.5%.
The price of books, stationery and home entertainment was the only category where prices inflated, rising 3%.
In grocery, prices dropped 1.3% year-on-year. This represented the second-biggest drop ever recorded, following on from August's record low. The past two months are the only instances of prices dropping by more than 1%.
'Little change'
BRC chief executive Helen Dickinson said: "There's been little change in the ongoing trend of price movements this month with shoppers finding their purchases 1.8% cheaper than at the same time last year, only marginally different from the 2% in August.
"We are now in the fourth year of falling shop prices, so the record-setting run of shop price deflation continues, which is great news for consumers. This is as a direct result of the intense competition and transformational change in the retail industry with consumers having access to more choices and greater ability to compare prices than ever before."
Nielsen head of retailer and business insight Mike Watkins said: "With a new round price cuts by supermarkets in September and fresh foods also promoted to encourage visits, this has helped maintain deflation in shop prices.
"However, the warm and late summer weather was a challenge for many in the non-food channel so we may well see further price discounts as we move into October."