Colourful entrepreneur and owner of The Range, Chris Dawson, has predicted that he will be picking up stock from more failing retailers a year from now.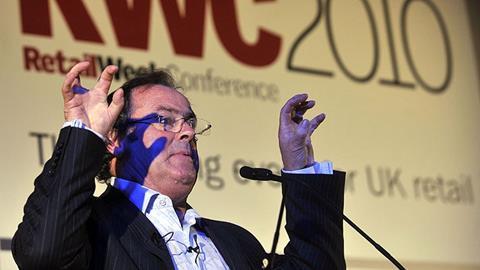 In a highly amusing speech at the Retail Week Conference, Dawson talked of how much money he had been able to make taking on the stock of retailers including MFI, Woolworths and Empire Stores.
He said he expects to be able to pick up more stock this way: "We've been talking to several European retailers who are about to call it a day."
"Has anyone got a business that is entering collapse?" he asked the audience. "You are not going to tell me. I'm the grim reaper."
Dawson also revealed that his sector of the market - which he defined as mid range value for money - was where he sees the future of retail, and he has recently been offered "telephone numbers" for his business.