Shoppers are predicted to spend an extra £26m on Father's Day this year as the improving economy helps restore consumer confidence.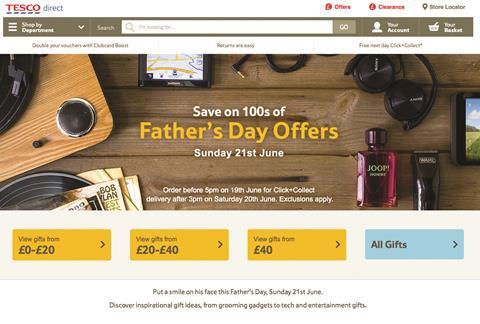 Analysts Conlumino are forecasting that UK consumers will spend £684m in the lead-up to this Sunday's celebration, a 3.9% rise on last year.
Conlumino suggests the recovering economy means consumer sentiment is being boosted.
Last month, Nielsen figures showed consumer confidence had reached a nine-year high.
Greg Bromley, retail analyst at Conlumino, said: "Not only are fathers going to benefit this year from the wider improvements in the economy, with increased spending on Father's Day, but retailers are benefitting from it too as occasions such as these provide a reason to boost sales."
Last year, £467m was spent on Father's Day gifts, £140m on related food and drink and £52m spent on cards and wrapping.
Tesco led the way in 2014 with a 14.9% market share, followed by Asda with a share of 11.8% and Amazon, which contributed a 10.4% share, according to Conlumino.
However, spending for Father's Day is still dwarfed by Mother's Day. Total retail spend on Mother's Day last year was £1.3bn, nearly double the £658m spent on Father's Day.
A Verdict consumer survey of 2,000 shoppers this month found that 40% of UK consumers intend to buy retail goods for this coming Father's Day, in comparison to 42% who bought gifts and cards for Mother's Day in March.