Sainsbury's management team harbours musical ambitions, Tesco backs pop group The Neales and Urban Outfitters presses play on a cassette comeback.
Sainsbury's harmonious relationship
Sainsbury's management duo Mike Coupe and John Rogers have become a formidable pair in the boardroom, but it seems they harbour ambitions to team up in a totally different way – for their own radio show.
Following its first-quarter results this week, the grocer boasted at being the market leader in vinyl record sales, which are currently enjoying a resurgence. And when the subject was raised on Sainsbury's media conference call, it prompted two minutes of musical punditry from the duo.
Rogers declared Fleetwood Mac's Rumours as one of his personal favourites, before Coupe suggested they should produce a "retro top 10" vinyl chart.
In a reference to Harry Enfield's famous comedy DJ duo from the 1990s, Rogers joked: "You can do that in your Smashie and Nicey-type show." We can't wait for the podcast.
Tesco trumpets Britain's Got Talent finalists The Neales
On a similar musical theme, Tesco has been throwing its weight behind family singers The Neales in a bid to get the group's single I'll Be There to number one for Father's Day.
The Neales, consisting of three brothers and their dad, shot to fame when they got to the final of Britain's Got Talent last year.
Tesco has an interest in The Neales' youngest member, Phil, as he works for the chain in its marketing department. And it's not only in the singing department that Phil is a standout performer. Last year he was shortlisted as a Retail Week Rising Star 'Graduate of the Year'.
The group's single is available to buy at checkouts in more than 750 Tesco stores for £1, with all proceeds going to Diabetes UK and the British Heart Foundation.
The Neales also performed in Tesco stores at the weekend to promote the single.
Will the band be singing from the rooftops come Sunday?
Urban Outfitters pushes play on a cassette comeback
Urban Outfitters has never been retro-shy or one to drag behind the latest trends, but its latest move could mark a step back in time too far.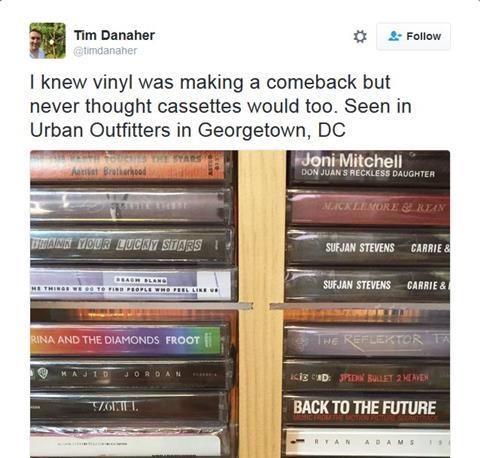 As Tim Danaher's tweet points out, the trendy retailer's store in Georgetown, DC has started selling cassette tapes, which were extremely popular in the 80s and early 90s.
Given that cassettes are less fashionable than their predecessor vinyl, not to mention lacking in sound quality, it seems unlikely they will be back for good.
That said, physical music is having a resurgence, so it may be time to dig your once-loved Walkman out of the garage.