Discount chain highlights continued performance and supplier support as Euler Hermes stops cover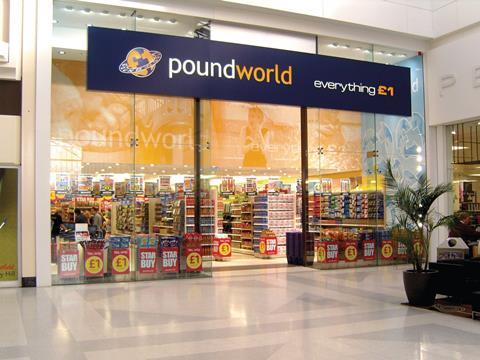 Single price point retailer Poundworld has had its supplier credit insurance pulled by Euler Hermes despite posting a 500% rise in profits in the year to March 31.
In a letter to suppliers, seen by Retail Week, Poundworld finance director Ian Hamilton said Euler Hermes had cut cover because the retailer was in the process of changing banks from Lloyds to HSBC, which it joined this month.
Hamilton highlighted the retailer's strong financial performance in the letter, and asked "for the continued support of our main suppliers whilst we undergo this change".
The family-owned retailer, which is in talks with an unnamed venture capital firm interested in acquiring a 35% stake, has been operating without credit insurance for several months. The retailer would not reveal what proportion of its supplier base had been affected, but did say they continue to be supportive.
Poundworld marketing director Martyn Birks, who starred in Channel 4's Undercover Boss last week, said: "Because of the strength of our business and cash flow we have managed to trade with our suppliers on a pro-forma basis." A "handful" had, however, put Poundworld on stop until the matter is resolved.
Birks expected Euler Hermes to restore credit insurance "in the next couple of weeks". A Euler Hermes spokeswoman said: "Credit insurance cover is continuously reviewed and Euler Hermes maintains an ongoing dialogue with Poundworld."
The retailer's pre-tax profits surged from £1m to £5m in the year to March 31, with turnover up from £94m to £133m. Since the year-end, like-for-likes have risen 3%.
Birks said Poundworld was confident of breaking through the £200m sales barrier in the current year. "The pound concept is mega-popular at the moment. It no longer has that snobbish stigma. We don't see any end to its popularity."
The retailer had "worked really hard, saving money where we can. We're very sharp on the shop floors and have got better at buying."
Poundworld plans to increase from 130 stores to 160 by the end of the year, and to reach more than 300 in the next two years. The retailer also operates a multi-price point fascia, Discount UK, trading in Northern Ireland as Discount NI.