Poundland boss Jim McCarthy has said the retailer is considering opening smaller stores, but is concentrating on its core offer.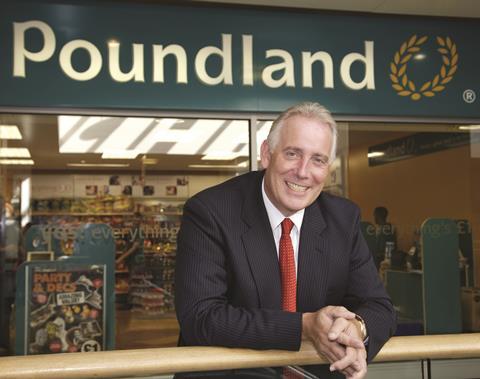 McCarthy told Retail Week there are Poundland teams "working on things" around a smaller format offering, but declined to give further details. "Our sweet spot is (still) 6,000 sq ft," he said.
Poundland has benefited from customers using its stores for convenience purchases and McCarthy declared the retailer sells "huge amounts" of milk for this reason.
However, food and drink sales only make up 16% of Poundland's group sales at present.
The value retailer, which went public last year, could be tempted to capitalise on the success of the grocery discounters. "The (big) supermarkets are in a difficult place, the model has to change," said McCarthy.
The business's share price dipped today after it reported first-half trading had slowed in the past three months. However, the retailer remains healthy with group pre-tax profits in the year to the end of March up 18.6% to £43.7m.
99p Stores acquisition
Poundland is planning 60 net new stores in its financial year, including 50 in the UK and the rest in Ireland. Around half of the new UK stores will be on retail parks, McCarthy said, with a focus on the south of England.
It is also hoping a bid to acquire rival 99p Stores will be given the go-head by the Competition and Markets Authority, with a final decision due on October 23.
"We wouldn't be going through with this [99p Stores deal] if we didn't believe we had a good chance of success"

Jim McCarthy, Poundland
However, the CMA is due to give a strong indication which way the decision will go when it reveals it preliminary findings in August.
"We don't have to do this (buy 99p Stores)," McCarthy insisted. "But we wouldn't be going through with this [deal] if we didn't believe we had a good chance of success. We are looking forward to October 23."
Poundland's £55m bid for 99p Stores' 251-strong estate has gone to a "phase 2" review with the CMA after the body found the buyout could worsen the position for shoppers in 80 shopping areas across the UK, due to a potential "reduction in quality", fewer promotions and store closures stemming from a lack of competition.
Poundland said it was "surprised and disappointed" by the initial ruling.