Pets at Home has broken the £100m EBITDA barrier for the first time after focusing on service and its customer offer.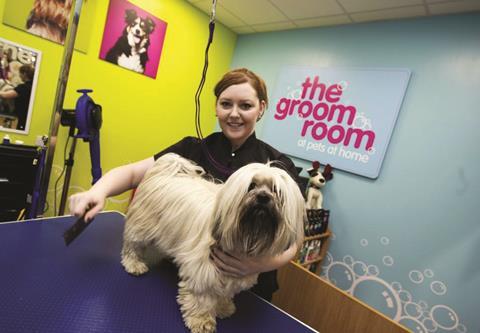 Like-for-likes rose 2.2% while turnover soared 10% to £598.3m in the 52 weeks to March 28. EBITDA jumped 10% to £100.8m.
Pets at Home chief executive Nick Wood told Retail Week: "We're focusing fundamentally on delivering service to customers every day. We've had a lot of growth from new stores but core like-for-likes are also up, which has been about focusing on the customer."
Pets at Home opened 24 standalone and in-store Companion Care vets surgeries in the year, taking the total to 228.
It also launched 26 in-store Groom Rooms, of which there are now 93.
Wood said the services provide customers with a "complete offer" and reasons to "keep coming back".
Pets at Home further bolstered its customer offer by launching a Very Important Pets loyalty scheme, which drew more than 900,000 members by the end of March. "It's an important part of how we glue the whole proposition together," said Wood.
The pet specialist invested £21m in expanding its reach. It acquired online equestrian retailer Ride-Away in December and veterinary business Vets4Pets in March.
The retailer is also strengthening its online operations. Wood said its website, which is "trading well", will be relaunched in the next three months to make it more tablet-friendly. An m-commerce site will follow. "It's clear the customer needs to access us when they want and where they want," Wood said.
He declined to give current trading figures but said Pets at Home remained "cautious" on the economic outlook – despite positive data in recent weeks such as falling unemployment – because consumer finances remain under pressure.
The retailer opened 32 shops in the year and plans a similar number this year. It has opened five since March, bringing its total to 350.
It is also testing standalone Groom Rooms combined with veterinary surgeries.
Wood revealed reptile sales were up double-digits in the period. Owing to high demand, the retailer introduced royal pythons and chameleons to its offer.
Pets at Home wants to reintroduce small birds into shops after it stopped selling the animals in mid-2008 when a case of bird flu broke out. It is piloting the sale of birds at its new Friern Barnet store.