Pets at Home boss Nick Wood has vowed to continue investing in staff, despite seeing workforce costs rise around 13% in its last financial year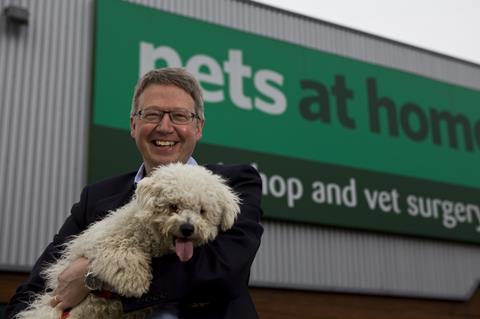 Speaking to Retail Week, following the specialist retailer's full-year results, Wood suggested he was unperturbed by the growing wage bill. "Our colleague costs will rise above inflation and will continue to rise above inflation," he said.
The retail sector's employment practices have come under intense scrutiny in recent months as the zero-hours debate wages on, and last month Co-op boss Richard Pennycook called on the industry to do a "better job" of championing jobs in retail.
Wood flagged that Pets at Home's staff retention rate remained at 81%, the same level as the prior year. "They [retention rates] are extremely high for the retail sector," said Wood.
He added: "It's not all about money [for our staff] – that's part of the equation, but it's about us listening to them and having a shared passion."
Wood said staff are on "above the minimum wage" and should be on "over £7 per hour within nine months of joining the business" once they begin extra training.
"It's the magic circle, if the customers are more satisfied with the knowledge and friendliness of our colleagues then they spend more in store," said Wood. "It really matters to our customers."
The retailer, which has 400 stores in the UK, plans to open 20-25 more pet shops, 50-55 vet practices and 55-60 pet salons, as well as five specialist luxury dog stores, called Barkers, over its current financial year.
Click-and-collect boost
Meanwhile, Wood revealed that its sales from click-and-collect jumped from 22% to 40% over the year, helped by its deliver to store service. Smaller Pets at Home stores have around 6,000 stock keeping units, whereas the deliver to store service allows customers to choose from the 11,000 stock keeping units on the group's website.
"What we see is when the customer comes into store they buy more or there is an incremental spend."
Pets at Home reported yesterday that pre-tax profits rose 40% to £87m, off the back of a 9.6% lift in sales to £729.1m.