Former Carpetright chief executive Darren Shapland will join etailer Notonthehighstreet.com as its new chairman later this month.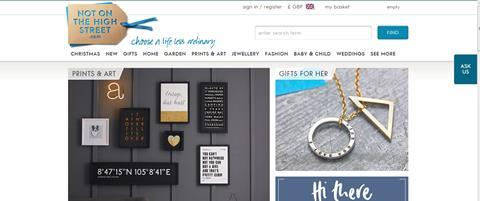 Darren Shapland will join etailer Notonthehighstreet.com as chairman
Shapland was previous chief executive of Carpetright and is now also chairman of Poundland, Topps Tiles and Maplin
The etailer consists of 5,000 small creative businesses across the UK
Shapland, who is currently chairman of Poundland, Topps Tiles and Maplin Electronics, will join the etailer which supports small creative businesses in the UK through an online marketplace.
Shapland said: "I am very pleased to be joining Notonthehighstreet.com. The group goes from strength to strength and Simon's recent arrival signals a new era of progression for the business, building on the original entrepreneurial vision of the founders."
Notonthehighstreet appointed Simon Belsham, the former online director of Tesco.com, as its new chief executive in March.
"I am fascinated by successful retail and e-commerce organisations and this really is one of the pioneers in its field and a true champion of small, creative businesses and entrepreneurs," said Shapland, who is also the non-executive director and chairman of the Audit Committee at Ladbrokes and Wolseley.
Between 2012 and 2013 Shapland was the chief executive of Carpetright, and previous to that he held a number of senior appointments at Sainsbury's including chief financial officer and group development director, as well as chairman of Sainsbury's Bank.
"Ambitious growth plans"
Simon Belsham, chief executive of Notonthehighstreet.com, commented: "This is an exciting day for us. Darren's significant track record and CV speak for themselves and we look forward to welcoming him to the board of Notonthehighstreet.com. His career experience and passion for retail will be beneficial to our business and the next phase in our ambitious growth plans."
Since the launch of Notonthehighstreet, the company has generated more than £300m for its small business partners across the UK and has a 200-strong team working from its Richmond headquarters.
The company has also begun an international journey with the launch of its German .de site in September 2014.