Greetings card retailer Clintons is leading a four-pronged strategy to turn the struggling business around, including a property review that could include closing underperforming stores.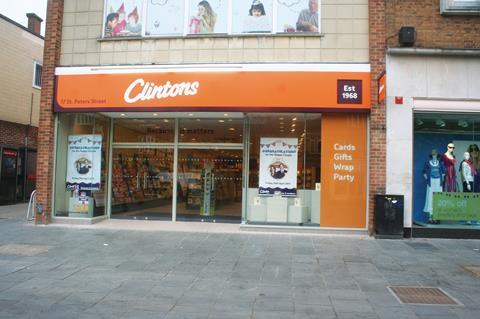 New chief executive Darcy Willson-Rymer is spearheading the plans. The four areas are: re-evaluating the retailer's store portfolio, customer experience, company efficiencies in its non customer-facing operations, and embracing ecommerce through more social networking activity.
Former Starbucks UK boss Willson-Rymer, who started in his new role at Clintons on October 10, said: "We have to look at stores city by city, town by town and ask, if there is a store located there, whether it is in the right location, if it is the right size, and if it looks like a store Clintons would be proud of.
"I don't see a massively altered portfolio in terms of store size. It's not going to be about wholesale closures of stores."
He said Clintons may even open stores in locations where it does not have a presence.
He added that as a high-footfall, low-ticket business, Clintons needs a large store portfolio, although it is understood the retailer has been closing stores in recent months when leases came up.
Clintons last week revealed adjusted operating profit of £3.2m in the year to July 31, vastly reduced from £18.8m the previous year, as rivals including supermarkets and Card Factory continue to take share.
However the retailer, which also owns the Birthdays chain, agreed a £55m credit extension to July 2013 with its lenders.
"This underlines my view that Clintons is a fantastic business that will be on the high street for many years to come," said Willson-Rymer.
Willson-Rymer believes Clintons sets itself apart from competitors, like Card Factory, because it offers such a wide variety of product.