Sports Direct boss Mike Ashley bids to become chairman of home shopping group Findel, months after raising his stake in the business.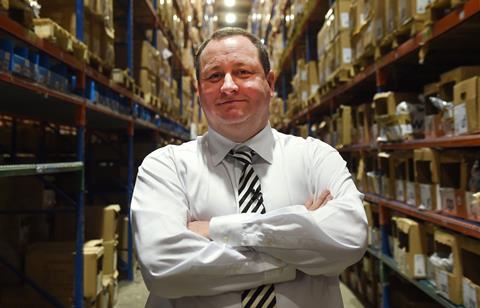 Findel's board today put out a stock exchange announcement about a possible supply arrangement between Sports Direct and Findel's Express Gifts, proposed by Sports Direct.
That proposal included a requirement that Ashley be made chairman of Findel.
He would replace outgoing chairman David Sugden, who intends to step down at Findel's AGM later this month.
Findel said today that it considered "there to be great merit in exploring a commercial supply arrangement with Sports Direct and that Mike Ashley could make a valuable contribution to the board of Findel but has not concluded on whether Mr Ashley should be chairman.
"There would need to be means through which minority shareholders could be protected and Mr Ashley would need first to be approved by the Financial Conduct Authority, which regulates Express Gifts."
It added: "There can be no certainty that any commercial arrangement between Sports Direct and Express Gifts will be forthcoming."
Sports Direct confirmed that it was "in the early stages of constructive discussions with Findel".
It added: "Like Findel, Sports Direct considers there to be great merit in exploring these arrangements.
"Whilst Sports Direct welcomes any support for these discussions from Findel's other major shareholders, including Schroders and Toscafund, Sports Direct would like to make clear that it is acting on its own behalf, and independently from such other shareholders."
Ashley has long had Findel in his sights. In March he raised Sports Direct's stake in Findel to nearly 30% – close to the point at which it would have to table a formal bid.
Mike Ashley's business had been at loggerheads with Findel after the home shopping group blocked an attempt by Sports Direct last December to have a director elected to the Findel board.
The move by Sports Direct was seen an effort to block the sale of Findel's replica football shirt business Kitbag, in which Ashley's business was thought to be interested. Sports Direct also accused Findel of under-delivering for shareholders.
However Findel announced at the beginning of this year that it had sold Kitbag to US-based sports merchandise business Fanatics for £11.55m.