Jim McCarthy is rarely stuck for words. Anyone who knows the gregarious retail veteran will testify to that.
But for Poundland's former boss, who hung up his pricing gun last week after a 43-year retail career, his expansiveness is a strength.
"I'm a man of many words and it's paid off in buckets," he tells Retail Week at the value retailer's offices near Wolverhampton in the final days of his reign.
"The more I repeat myself and am able to transfer that enthusiasm and praise, then you get out-performance [from a team]."
That heart-on-the-sleeve approach appears to have been at the centre of McCarthy's success.
It stems from his humble beginnings as a paper boy at the age of 12, who worked his way up to be boss of newsagent chain Dillons, head of T&S Stores, and managing director at Sainsbury's convenience stores business, before landing at Poundland.
The key to his retail career, says McCarthy, has been getting "close professionally to colleagues and allowing them to absorb some of my enthusiasm and passion and energy for pleasing customers.
"That's really what the difference is."
For the past 10 years McCarthy has been chief executive of Poundland and the 60 year-old has overseen an impressive period of growth.
"I think it's the most challenging time for retail in 40 years"

Jim McCarthy
When he joined the privately-owned business, EBITDA was around £7m and it had an estate of 140 shops.
Today, publicly-listed Poundland boasts around 900 branches and last year generated EBITDA of £57m. Its success has attracted the interest of South African retail giant, Steinhoff, which, since Retail Week spoke to McCarthy, has made an approach to acquire Poundland. Its initial bid has been rejected.
McCarthy has been fortunate in some ways in riding the wave of discount shopping while it was still a small ripple.
But he has successfully navigated what have occasionally been choppy waters.
Passing the baton
The Nuneaton-born executive's final year at Poundland has been a frustrating one.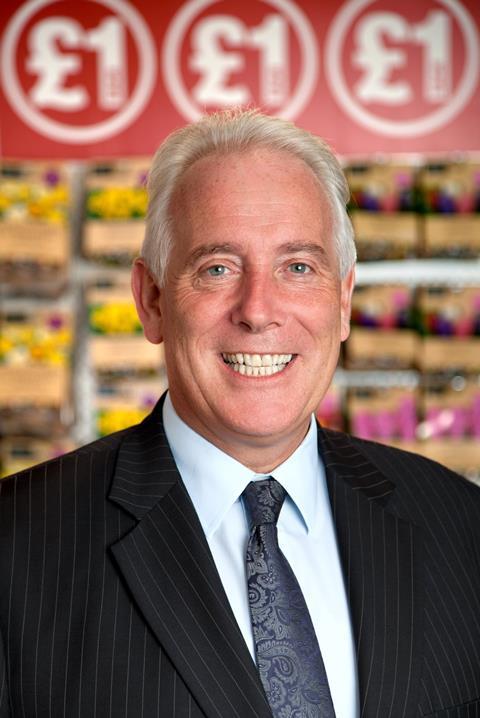 Its efforts to acquire rival 99p Stores hit a road block in the form of the Competition Markets Authority, leading to a delay in completing the deal.
McCarthy remains bitter the process took so long. "I'm still very disappointed at the way that that happened," he says.
At the same time, Poundland's like-for-likes slid in its last full-year and the share price took a dive as competition in value retail became ever fiercer and the big four grocers' price war had an impact.
"It would be fair to say, the last year hasn't been the best of my 10 years here," admits McCarthy. But he adds: "Fundamentally this a great business."
Last week, he handed the Poundland baton to former B&Q boss Kevin O'Byrne. McCarthy appears relaxed about handing the reins over and says he has "shared my thoughts" with O'Byrne but not given any direct advice.
"Kevin is his own man," he says. "That was very important in the selection and he has a good history."
O'Byrne certainly has plenty to get his teeth into with the continuing integration of 99p Stores, the international opportunity Poundland has with its Dealz stores, a new multi-price format, a relatively new e-commerce site and potentially new owners to deal with.
McCarthy is also aware of the dangers that hover over the industry at present.
"I think it's the most challenging time for retail in 40 years," he says, speaking before the UK voted for Brexit. "Shoppers have changed and there are more channels."
"We haven't had yet a convenience store chain that sells at supermarket prices. That could be interesting"

Jim McCarthy
And he speaks from decades of experience, having built up T&S chain stores with fellow retail veteran Kevin Threlfall before it was sold to Tesco in 2003. McCarthy then went on to lead Sainsbury's convenience stores.
McCarthy cites Threlfall as one of his biggest influences. Threlfall also has a humble background, having started his career with a cigarette kiosk on Wolverhampton market in the 1970s."Kevin is the most gifted, natural retailer I've ever come across," says McCarthy, his eyes widening.
"He's larger than life and massively charismatic. He could smell value, he was like a dog with a bone. He would not let it go until it was done properly. Absolutely brilliant. He'd only work on one thing at a time. His briefcase just used to have one piece of paper in it.
"He was also the most grateful of people, he inspired unreal loyalty.
Convenience battleground
McCarthy believes the future battlegrounds will be convenience and delivery charges for online transactions.
"I don't think anyone will be successful without being convenient," he says.
"Convenience stores have a very good future. But I think convenience store margins will fall and there will probably be some more activity in convenience and some disruption.
"We haven't had yet a convenience store chain that sells at supermarket prices. That could be an interesting one."
McCarthy believes there is still a war brewing over delivery charges for online orders. "That will inevitably come as the market matures," he says.
"I didn't think it was crazy, nor did I think it was an easy 'yes' that's great … But it's a bold move"

Jim McCarthy on the Sainsbury's Argos acquisition
McCarthy also believes that click-and-collect hubs will become more significant. "If hubs become available on arterial roads, I can see it happening where retailers and manufacturers can deliver straight into them. The customer puts their car registration in, puts their order in the boot, signed for, gone."
This fulfilment battle will be ratcheted up a notch when Sainsbury's acquisition of Argos is finally completed.
As somebody who spent two years in a senior role at the grocer, is McCarthy surprised by the deal?
"I didn't think it was crazy, nor did I think it was an easy 'yes' that's great," he says, showing signs of the diplomacy that have undoubtedly helped his longevity in retail."But it's a bold move and the challenge is huge."
Like any good retailer, McCarthy is aware you can't afford to stand still, particularly in today's supercharged fast-pace environment. But that is not to say he doesn't have affection for some retail names that have gone to the wall.
In fact, he becomes misty-eyed when discussing his memories of BHS.
Secrets of success
"I used to use the BHS tea room when I was 16 for a pot of tea with my pal and a smoke."
He also shows affection when discussing the travails of Marks & Spencer. "I'd like to see M&S under Steve Rowe resurgent," he says. "A healthy M&S is a healthy retail industry."
"If you have talent and work hard with a liberal sprinkling of good fortune and good bosses you will rise to the top far more quickly"

Jim McCarthy
Having successfully survived and mostly thrived in the industry, McCarthy is well-placed to offer advice to future generations.
So what words of wisdom does he have?
"Hitch your wagon to a business that will grow fast, because if you have talent and work hard with a liberal sprinkling of good fortune and good bosses you will rise to the top far more quickly than in any other environment," he says.
"If you don't like people, are not prepared to change and enjoy the pace, don't get into retail. Think creatively and challenge everything. Retail is the most exciting place in the world."
It certainly appears that McCarthy will miss the buzz. But having once before flirted with retirement, he insists this will be his last front-line position. Non-executive roles will be considered though, he says.
And how else will he fill his time?
McCarthy says he wants to spend more time at a holiday home in south Devon with his wife of 42 years, Rosie, and their spaniel Charlie.
He plans to take lessons on driving a newly-acquired motorboat, which he is quick to point out is "not in the £100m yacht bracket", revealing his wry sense of humour. "It's just a small motorboat to get to one side of the bay to the pub," he confirms.
He also plans to up his weekly games of squash from two to three, and spend more time watching one of his two sons, Sean, play professional rugby.
"I need to clear my head and have a little bit of a rest," he says. "I've been flat out here for years."
But Poundland will remain in his blood, not least in his shareholder portfolio.
What will he miss most? "The people, the pace, the passion." And he adds cheerily: "The product. It's all the Ps really."
"The more difficult it was, the better he got" – Jim McCarthy on his hero Winston Churchill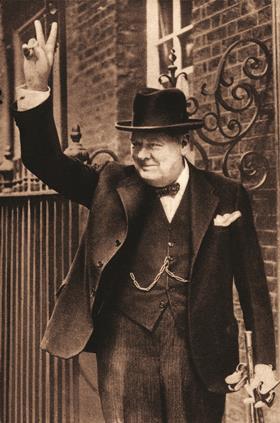 McCarthy describes Winston Churchill as his "favourite person of all time". He has clearly drawn inspiration from arguably Britain's greatest leader in times of trouble.
"I thought Churchill was a remarkable war-time leader," says McCarthy. "Almost the more difficult it was, the better he got. He was inspirational, he gave purpose. And he was the inventor of the tank which probably shortened the [First World] War and saved millions of lives.
"He was the epitome of what leadership is about when backs were to the wall."