Evans full-year pre-tax profits slump 69.4% to £1.36m
Retail blames slower than expected sales growth on "softer" demand for cycling
Business reveals refinancing measures and says it will "continue to operate comfortably"
Evans Cycles has suffered a 69.4% slump in pre-tax profits after a "softer" cycling market affected its full-year performance.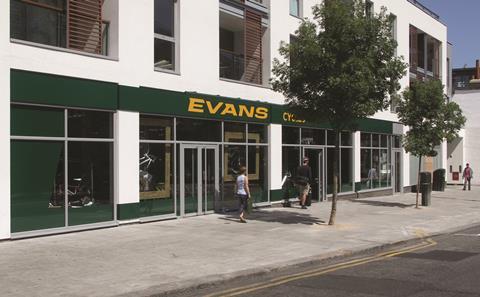 The retailer's pre-tax profit for the year ending October 31, 2015 fell to £1.36m, down from £4.46m during the prior 12-month period.
Evans' EBITDA, which the cycling specialist's board uses as its main key performance indicator, dropped 36% to £4.8m.
A spokesman for the retailer said the business was competing in a "tough environment", with "softer" demand for cycling equipment during the year driven by poor weather and strong comparables from the previous year.
Evans said that impacted gross margins and resulted in lower sales growth than planned, although turnover grew 4.5% to £133.4m after it opened seven new stores.
Investment into its relaunched website and revamping older stores also hit profits.
Refinancing process
According to documents filed at Companies House, Evans has refinanced term loans with banks since the year end "due to difficult market conditions experienced in the UK cycling market since February 2015."
As a result of the refinancing process, Evans said its loans with banks have been reduced from £29m to £23.8m, with no debt repayments due on any of the loans until April 2021.
Evans majority shareholder, ECI Partners, has also ploughed "additional funds" into the business to provide extra liquidity.
The spokesman said that showed "a significant commitment and confidence in the business" and insisted Evans remains "well-positioned" to gain market share in the sector.
Evans added that it will "continue to operate comfortably within the new agreed bank facilities", based on its cash flow projections for the period to October 2017 and current trading performance.