Specialist retailer Direct Golf is eyeing private equity investment as it looks to replicate the success of fellow fast-growing sports chain Go Outdoors.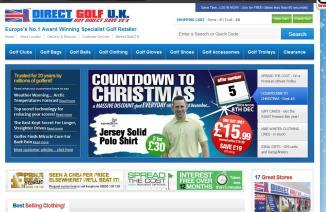 Chairman of the 20-store retailer John Andrew, a former professional golfer, said the retailer was seeking investment to fund store expansion. Direct Golf believes there is potential for up to 50 stores in the UK.
Andrew said: "We've had lots of interest from private equity. We're primed for roll-out and are looking for investment. I look at Go Outdoors and think we could follow its lead."
Andrew said Direct Golf had sought advice from firms PwC and Mazars and aimed to kick-start the process next year, which could explore selling the whole business or just a stake.
Direct Golf's up-for-sale rival American Golf has attracted the attention of private equity players including Bridgepoint Development Capital.
Revenue at Direct Golf – which has three high street stores and 17 out-of-town sites with driving ranges – jumped 42% to £28m in the year to September 30, with net profit up 22% to £1.1m.