Card Factory total first half sales are up 4.8% year-on-year
Like-for-like growth has slowed to 0.2%
The retailer opened 34 new stores in the period
Card Factory's like-for-likes inched up in its first half as "variability in footfall" and Brexit uncertainty continue to impact sales.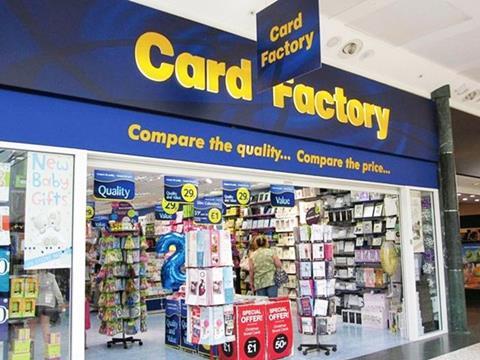 The greetings cards and gifts specialist has posted a 4.8% sales increase in a trading update for the six months to July 31.
Its like-for-likes edged up 0.2% during the period, compared with an increase of 2.8% in the same period the year before.
Card Factory said the softer sales growth it experienced in its first quarter with "variability in retail footfall impacting weekly sales patterns" continued into its second quarter, "both in the lead up to and following the EU referendum".
It added that the impact of the Brexit vote remains uncertain and that the business is likely to face increasing currency headwinds.
The retailer said: "We have for some time been expecting foreign exchange gross margin pressure in FY17 and beyond due to the fall in the value of sterling. This margin pressure and uncertainty has increased significantly following the result of the EU referendum."
Sales in its online personalised cards division Getting Personal were flat compared with last year, because improvements in average spend were being offset by lower visitor numbers, the company claimed.
The retailer added: "We continue to target like-for-like sales growth of at least 10% at Getting Personal and we are currently investing in a number of business improvement initiatives in pursuit of this aim."
Soft footfall
Card Factory chief executive Karen Hubbard, who took the reins earlier this year following the departure of Richard Hayes said: "The retail environment in the first half has been challenging and, as widely reported, footfall patterns in the first half have generally been soft.
"Card Factory is not immune to these wider factors and our sales growth over the period was lower than our normal levels as a result."
Hubbard said that, while it is "too early to assess the precise impact on overall consumer sentiment and retail footfall from the result of the EU referendum", the business will enter its second half "with confidence" to target improved sales growth.
The retailer opened 34 stores during the period bringing the total estate to 848 stores as of July 31. Card Factory is confident that it can still achieve its target of 50 net store openings a year and that it can deliver full-year underlying profit before tax within current expectations.