B&M pre-tax profits rise 10.4% during its first half
Like-for-like sales edge up 0.2% in the UK
Total sales jump 18% in its domestic market
B&M opened 20 net new stores in the UK during the period
B&M has recorded an increase in profits during its first half as new store openings across the UK and Germany drove sales growth.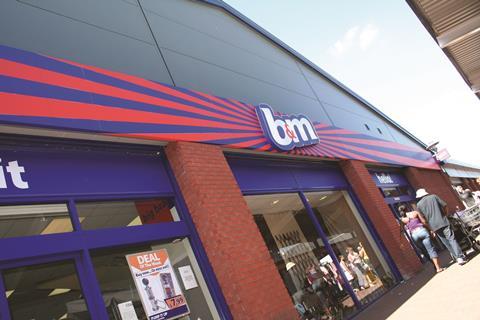 The value retailer said pre-tax profit jumped 10.4% to £73.7m during the 26 weeks to September 24.
B&M's adjusted pre-tax profit, which strips out the impact of exceptional and non-trading items, surged 17.2% to £77.9m.
The business said like-for-like revenues edged up 0.2% in its domestic UK market after new store openings cannibalised sales from older locations.
Excluding stores that are within a three-mile radius of a new B&M store, like-for-likes advanced 1.9%.
Store openings
Total sales grew at the faster rate of 18% in the UK, hitting £1.01bn during the six-month period, buoyed by 20 net new store openings and the relocation of six smaller shops into larger units.
At the year end, B&M operated 519 stores in the UK and it remains "on track" to open at least 50 net new stores during its current financial year.
Group sales jumped 18.9% to £1.1bn as sales at its German Jawoll chain rocketed 29.6% to £88.9m.
B&M launched 10 net new stores in Germany during its first half and aims to open 19 by the end of 2016/17.
The retailer said its third quarter had "started solidly" and added it was "set up well" for the peak Christmas trading period.
Inflation
B&M said the devaluation of the pound would not affect its purchasing until spring 2017, as it is hedged for the current financial year.
But it warned that it would feel a "not yet measurable" impact on the cost of goods next year, as 30% of its products are sourced in China.
The business said this was "likely to lead to inflation in the affected product categories", but insisted it is "determined to minimise the effects of these pressures on customers".
The value retailer's boss Simon Arora said: "Naturally, we are mindful of the current economic uncertainties in the UK but given the strength of our retail model and with the full benefits now flowing from the step-change investments we made last year in our store opening programme and new supply chain capacity, we are confident of meeting expectations during the remainder of this year."