B&M is in talks to acquire stores from six retailers including a supermarket, as the group embarks on plans to become a 'national retailer'.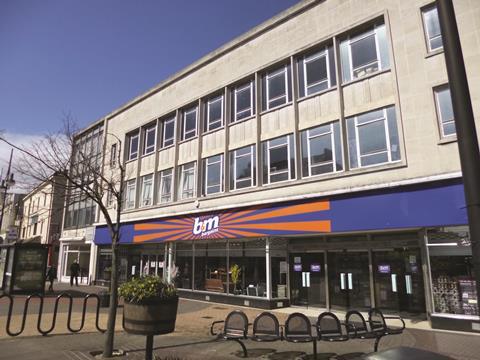 The discount retailer, which listed on the London Stock Exchange earlier this year, has revealed plans to bolster its portfolio of 400 stores to 850, with 40 to 50 stores expected to be rolled out every year.
B&M European Value Retail is in talks with six undisclosed retailers to take up their unwanted stores.
It was reported last month that B&M had approached Home Retail Group about acquiring a substantial number of the 80 Homebase stores that it is plotting to close over the next three years.
Speaking to Retail Week as the group announced its maiden results following its float in June, chief executive Simon Arora said that it was in negotiations with a mix of retailers, including a supermarket.
He said: "If you look at our store opening programme over the last five years, a significant proportion comes from other retailers right sizing their stores and we see that trend continuing."
Arora said that the majority of the 40 to 50 stores it plans to open in the next year will be new build or previously vacant shops.
He added that the business is "a regional retailer on a journey to becoming a national retailer". He said: "A significant proportion of our recent focus has been to the south of Birmingham. We see opportunities to the north and south of Birmingham.
"Half the country does not have easy access to B&M simply because there's many counties where we don't have a presence at all. Along the south coast, we've practically nothing."
No plans for ecommerce
The retailer, which sells everything from oak coffee tables and vibrating head massagers to kettles and wheelbarrows, has yet to tap into ecommerce.
Arora said it was not a priority for the businessat present, although he didn't rule it out for the future.
"One of the things B&M has in common with Aldi, Lidl and Primark is that none of us offer home delivery from online. The reason for us is that whilst we keep it under review, our UK business is growing at £200m a year and so right now, it's not our strategy.
"We constantly review it – we don't rule it out."
On the Christmas period, Arora said: "The stores are full, the warehouse full – we're all set for a good Christmas."
The group will be offering its biggest range of Christmas jumpers – a winning product for many retailers in recent years.
Today (November 18), the group revealed that adjusted EBITDA increased by 34% for the six months to September 27 as revenues during the period jumped 29.7% to £739.8m.