Variety retailer irks competitors with ultimatum to suppliers for exclusivity deals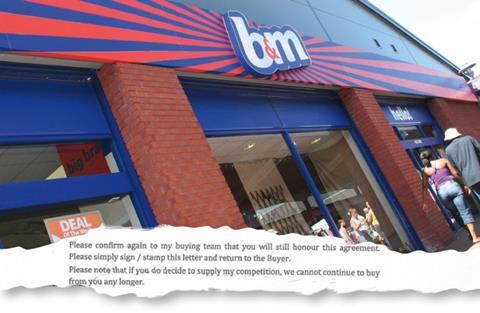 Variety chain B&M Bargains has threatened suppliers that it will stop dealing with them if they supply its rivals, sparking outcry in the fiercely competitive value sector.
In a letter to suppliers, seen by Retail Week, B&M managing director Bobby Arora warned that, if they supply competitors, B&M "cannot continue to buy" from them "any longer".
The letter, sent last week, lists its "main competitors" as Poundstretcher, Home Bargains, 99p Stores and the latter's new variety chain Family Bargains. It instructed the recipients to sign the letter in agreement and return it to the retailer.
B&M Bargains joint managing director Simon Arora told Retail Week the retailer is within its rights to instruct suppliers that produce own-brand, exclusive product not to supply rivals. He said he wanted to reinforce existing agreements with 12 Far East suppliers.
Arora said: "B&M Bargains invests a great deal of time and effort into product development and design. We consider it inappropriate for suppliers to pass the benefits of that expertise onto competing retailers. If it's our product it shouldn't be offered elsewhere."
The tactic has outraged rivals, and one source said B&M Bargains' actions "smacked of sour grapes".
Home Bargains operations director Joe Morris said "suppliers will take a very dim view of this type of pressure being applied". He said: "We have worked closely with our suppliers for over 30 years, in a very honest and straightforward way."
99p Stores buying director Faisal Lalani said: "Retail's a competitive world, but I am surprised that one of our competitors would use such tactics. You don't see the likes of Asda instructing its suppliers not to supply to Tesco."
Poundstretcher was unavailable for comment.
The legality of enforcing such a demand is questionable, said Graeme Payne, senior associate at law firm Field Fisher Waterhouse's retail team. "It seems overly protectionist. Depending on the nature of the goods and suppliers involved, it would be interesting to see if such a provision would be upheld in the courts if an action was brought," he said.