Argos like-for-likes fell 2.8% in the second quarter as demand for electricals fell amid "weaker overall market conditions".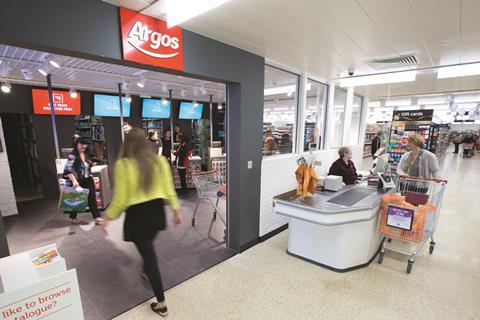 Argos like-for-like fall an improvement on first quarter
Owner Home Retail warns hard to predict outcome for the year due to 'less certain promotional environment'
Homebase like-for-likes increase 5.9%
That is an improvement on the 3.9% drop in the first quarter.
Argos said, "as anticipated", sales of electricals products continued to decline in the second quarter, principally driven by TVs, tablets and white goods. "These declines more than offset a good performance in toys," said Argos.
Total sales at Argos were flat at £897m as the retailer opened 52 stores, bringing its total to 840. Openings comprised 44 digital concessions within Homebase and 8 digital concessions within Sainsbury's.
John Walden, chief executive of Argos and Homebase owner Home Retail, warned that the outcome of the full year is difficult to predict. "The outcome for the group's full year generally depends upon the important Christmas trading period at Argos which, this year, seems less predictable than usual due to a less certain promotional environment."
Online sales now represent 46% of total Argos sales, up from 44% last year. Within this, mobile commerce sales grew by 11% to represent 25% of total Argos sales, up from 22% in the prior year.
Argos gross margin improved 125 basis points driven by favourable currency and shipping costs. The increase was partially offset by an increased level of promotional sales, Argos reported.
Homebase results
At sister retailer Homebase, like-for-like sales increased 5.9% with growth recorded across all categories, but particularly in big ticket items, in the 13 weeks to August 29.
Total sales declined 2.8% to £378m as a result of the ongoing store closure programme. The DIY retailer closed eight stores in the quarter, bringing its total to 271.
Homebase gross margins fell by 75 basis points driven by stock clearance activity, together with an adverse sales mix. The decline was partially offset by a reduced level of promotional activity together with the "anticipated impact of favourable currency and shipping costs".
Walden said: "Argos delivered an improved sales performance in the second quarter.
"Consistent with our previous guidance, Argos' sales continued to be adversely impacted by the performance of a number of key electrical product categories as well as weaker overall market conditions in August.
"Homebase performed well across its peak trading season, delivering good like-for-like sales growth in both quarters of the first half, while continuing its progress on both its store closure programme and the Productivity Plan more broadly.
"Our teams have made solid progress preparing for this period, including substantially completing the technology and operational steps necessary to introduce new store collection and home delivery propositions to our customers. We will be making increased marketing and promotional investments to launch these propositions and we expect customers to increasingly embrace them over time."