From Amazon to Aldi, River Island to Iceland, a host of retailers have launched wild and wacky April Fool's Day pranks in a bid to sucker shoppers. 
Whether it's new spiralised vegetable ranges, scratch and sniff labels or ejector beds, businesses across the country have done their best to trick their customers.
Retail Week runs the rule over ten of the best wind-ups on April Fool's Day 2017.
Amazon's paw-fect invention
Amazon is known for its innovation and investment into new technologies, but even this wacky invention is surely a step too far for Jeff Bezos' business.
The etail titan took to social media to promote Amazon Echo for pets.
Amazon claimed to have updated its Alexa personal assistant to make it compatible for pets, an addition it dubbed 'Petlexa.'
According to the online goliath, the Petlexa allows dogs, cats and other animals to communicate with Alexa in the same way humans do, giving pets the freedom to place orders from Amazon and activate smart home-enabled toys.
A hilarious video to accompany the spoof launch shows a hamster having his steps counted as it runs on its wheel, a hungry cat ordering sushi and a bored dog activating a ball-throwing machine.
What a paw-fect present that could be.
River Island goes barking mad with Dog Style Studio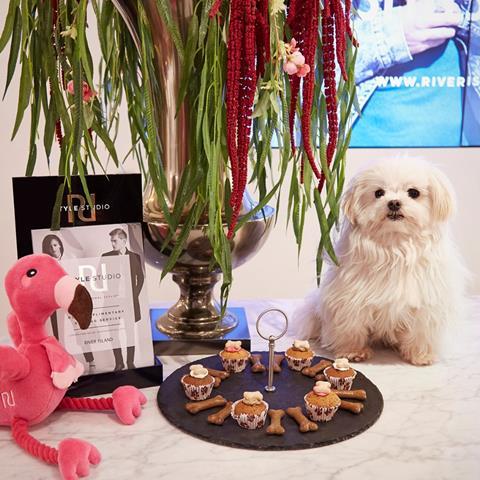 Continuing the pet theme, River Island unveiled "the world's first styling service for dogs, by dogs," the Dog Style Studio.
The fashion retailer said that shoppers' canine companions would be styled by "a fellow furry fella", who will "cater to your pooch better than any human could."
River Island even went so far as to detail the five steps of studio styling at the new service in Park House, London.
It offers 15-minute, 30-minute or hour-long appointments, designed to kit out dogs in River Island's collection of "dog clothes, collars and dog jumpers."
They must be barking mad.
Sainsbury's makes developing new ranges look easy-peasy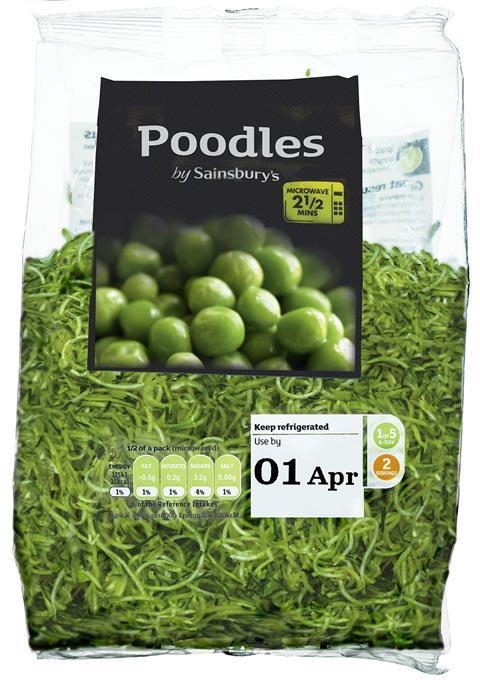 Sainsbury's looked to capitalise on the customer trend towards "healthy alternatives to carbohydrates" by rolling out a new pre-prepared vegetable range.
Following the success of spiralised veg such a courgette spaghetti (courgetti) and butternut squash noodles (boodles), the grocer unveiled spiralised peas – better known as poodles.
The supermarket giant claimed poodles are made from "the big cousin" of the garden pea, the Grand Pois – allegedly grown exclusively by Sainsbury's.
Louise Vebendt, the scientist behind what Sainsbury's said was "the world's first" spiralised pea, said the grocer was "always looking to innovate", adding: "The challenge was developing a spiraliser small enough and a pea big enough so that we could maintain the integrity of the vegetable."
Sounds far from easy-peasy.
Aldi launches scratch and sniff labels
We're delighted to launch NEW 'Scratch & Sniff' labels. Just scratch the @RedTractorFood logo to experience the Great British countryside! pic.twitter.com/bszTeugLVH

— Aldi Stores UK (@AldiUK) April 1, 2017
Never one to spurn a chance for some cheeky or humorous marketing, Aldi used April Fool's Day to reveal news of its new 'Scratch and Sniff' labels.
The discounter launched the new "mind-blowing revolution" in association with Red Tractor in a bid to "heighten the shopper experience" and "bring the customer closer to the countryside."
Aldi UK's joint managing director of corporate buying Tony Baines said: "At Aldi, we are proud of the provenance of our produce and the incredible work our suppliers do. We wanted to embrace our British grown, fresh produce and allow the Aldi customer to get as close as possible to the roots of their food."
Forget the countryside, something smells a little fishy about this particular idea.
Iceland's idea is blooming genius
You can now enjoy beautiful spring flowers all year round with our new Frozen Flowers range… Blooming brilliant! #PowerofFrozenpic.twitter.com/Cdg0cjrJle

— Iceland Foods ❄️ (@IcelandFoods) April 1, 2017
Not to be outdone, Sainsbury's and Aldi's grocery rival Iceland took the Power of Frozen to a whole new level.
The frozen food specialist used Twitter to unveil its new Frozen Flowers range.
Iceland suggested the move would allow customers to "enjoy beautiful spring flowers all year round," with single yellow roses available for as little as £1.
Blooming genius.
B&Q ruffles feathers with bird bathrooms
Forget bird baths - this is the next big thing! Coming to all B&Q stores from 1/4/2017 pic.twitter.com/ClEkdRplf0

— B&Q (@BandQ) April 1, 2017
B&Q trumpeted "the next big thing" to hit shelves in its stores as it advertised "the world's first" bird bathrooms.
Complete with bath, toilet, sink and vanity unit, the Kingfisher-owned DIY chain claimed the new product was available in all its stores from today.
However, customers should be aware that they will have to provide their own towels and bath mats for their feathered friends.
Even so, it looks like a pretty tweet idea to us.
Wilko makes a splash with a hot tub for birds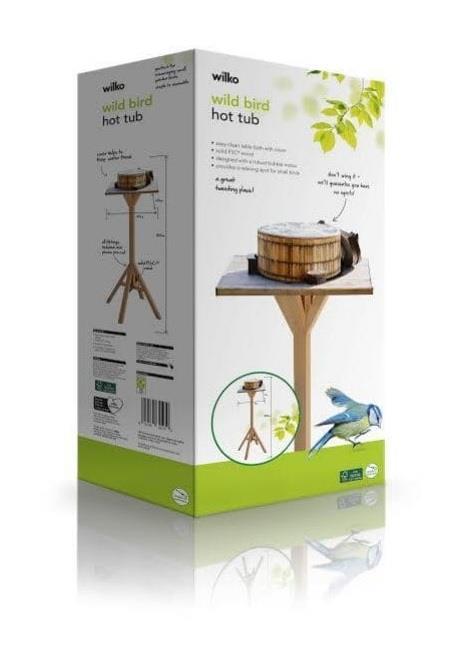 Wilko took a similar tack to B&Q, unveiling its new Hot Tub for Birds – complete with a pun-laden press release.
According to the value retailer, the hot tub comes complete with mini-jets for "a truly relaxing spa(rrow) experience" that not only offers fresh drinking water, but means birds will not freeze in colder weather.
Wilko said the hot tub was "big enough to make sure your garden birds are never left owl by themselves and that it never gets hawk-ward."
The chain's pet buyer Neil Fairhurst added of the £25 product: "We've got a soft spot for wild birds here at Wilko and know our customers love to make the most of their outdoor space to encourage natural wildlife into their gardens.
"Hot tubs are the centrepiece for many British gardens, but why should they be reserved for humans? Birds deserve bubbles, too!"
Cuckooland springs into action with ejector bed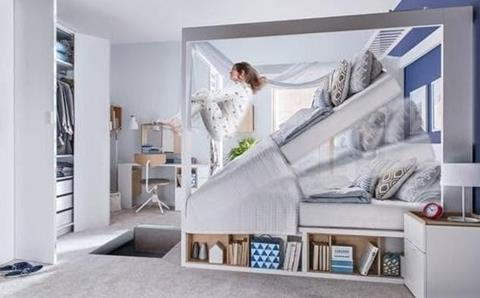 Cuckooland lifted the lid on a unique solution for those who are "forever late for work" or "struggle to get up in the mornings."
The online lifestyle and furniture retailer launched the 4You Ejector Bed, inspired by the classic invention in Wallace and Gromit.
According to Cuckooland, the bed features a spring-loaded mattress mechanism that links to your alarm clock and can be programmed to spring into action five, 15 or 30 seconds after it goes off.
The etailer even offers to install a trap door in your bedroom at an extra cost, allowing users to take a leaf out of Wallace's book and land at your breakfast table on the floor below.
What a dream that would be.
Foyles' clap trap
Foyles revealed details of its bid to "revolutionise the world of home entertainment" with a new smart home controller range – the Colon and Semicolon.
Apparently developed at the independent booksellers' in-house research and development centre, F-LAB, the clap-activated control system allows users to order any book in print by clapping its ISBN number.
Foyles said the devices are also programmed to recite articles from its blog, with a selection of celebrity voices.
The "flagship" Colon model features a full range of stereo sound and a library of royalty-free music, Foyles claimed, while the "more affordable" Semicolon is smaller and has a shorter USB cable.
Head of design at Foyles' F-LAB Jeff Clark said: "A lot of companies are doing the smart home controller thing, but we like to think we've added a new, Foyles-ish twist to the concept.
"The devices learn to recognise the user's unique clap sound, making it almost as secure as a fingerprint.
"We've learnt a lot since our experience with the self-replicating 3D printer, and we're confident that our Colon and Semicolon will transform customers' homes and lives (in a good way)."
Brewery isn't horsing around with new ale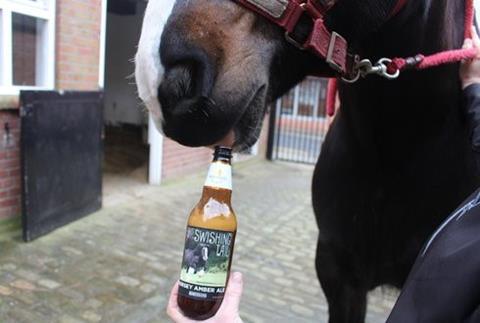 Stockport-based Robinsons Brewery popped the cork on a new range of animal-friendly ales, created for their Shire horses.
The new Swishing Tail beverage is said to include the "rich flavours of hay" with "hints of sweet carrot and a twist of swede root," their horses' favourite treats.
The brewery's brand manager Gill Yates said: "There are lots of beers for dogs emerging in the drinks market at present, so we thought, since our horses are such an important part of our brewing heritage, it was high time we found a way to bring the great taste of beer to them as well."
Could we soon see the range filling British supermarket shelves? It's likely to be a "neigh."