As Sir Philip Green signals his intention to sell loss-making BHS, Retail Week considers who might be in the running to take on the retailer.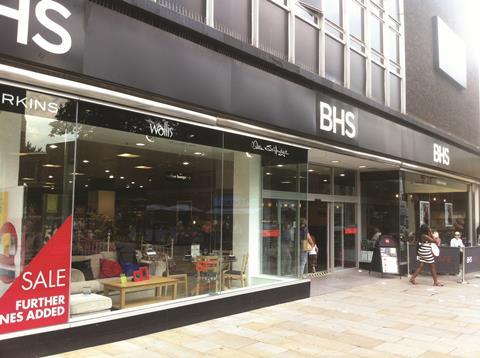 Break up and sale
Jonathan De Mello, head of retail consultancy at Harper Dennis Hobbs, says that the BHS's retail portfolio could be the most valuable part of the business, given that Green owns the freehold on a number of his stores.
He says: "Most of the stores are large and very prime units that could either be sold to international retailers/department stores in their own right, or broken up into smaller, valuable units where a potential buyer could potentially build a small shopping area in a prime space. This would only work in BHS stores in key/valuable centres – particularly in the London area, where demand for prime space outweighs current supply of such space."
He contends that it is unlikely that anyone is likely to take on the business as a going concern, and there is the potential for a buyer to make considerable amounts of money from selling off large chunks of the BHS estate to fast growing UK or international retailers.
BHS's Oxford Street store will be of particular interest to major retailers looking to enter the UK given its size and prime position.
Apollo Global Capital Management
In October last year, Apollo Global Management set up Alteri Investors with former GA Europe chief executive Gavin George to invest in underperforming, stressed and distressed UK and German retailers. It said that it expects to invest in retailers through both debt and equity transactions, typically in the £10m to £50m range, with additional capacity for larger transactions.
George
Asda's clothing brand George has been suggested as a potential buyer of BHS's store estate.
Retail analyst Nick Bubb says that given BHS's synergies with George Clothing, "Asda should be interested in the 180 BHS stores, on the right terms and no doubt some of the high street sites could be suitable for conversion to food retail use".
In April last year, Asda revealed that it plans to increase physical access to its brand to 70% by 2018, up from 53%, with plans to invest £750m in opening new stores, store extensions and refurbishments last year.
Hilco
Restructuring specialist Hilco specialises in buying and restructuring distressed retailers. The business most recently bought loss-making young fashion chain Bank, which became the first retail casualty of 2015 when it fell into administration.
Pep & Co
Former Asda chief executive Andy Bond's new discount chain has also been suggested as a potential bidder for BHS's stores. With plans to open at least 50 shops from mid-July, it would make sense for Bond and investor Christo Wiese to look into the store estate.
However, their strategy of targeting market towns and smaller shopping hubs means that it is less likely that the pair will look to take on the retailer. Wiese made an offer for BHS in 2013, but Bond told The Independent today: "We've set up a vehicle to invest in UK retail, the first project being Pep & Co. I guess from now on we'll be connected with most sales processes but this is pure speculation."
Mike Ashley
Mike Ashley has been prolifically buying up UK high street retailers of late, after selling off part of his stake in Sports Direct; he has taken on shares in both House of Fraser and Debenhams. Given his appetite for acquisitions at the moment it would not be surprising if he made a play for BHS.
Primark
Retail analyst Nick Bubb has attributed BHS's woes to competition from Primark and its addiction to discounting. While Primark may be partially responsible for BHS's fall from grace, it would be an unlikely buyer as the two retailers already have stores in many of the same retail developments.
Aldi or Lidl
Aldi and Lidl are both in a race for space as they work to increase market share through new store openings. BHS's focus on high street stores might make an acquisition by one of the discount grocers problematic due to the lack of nearby car parks.
Sir Philip Green puts loss-making BHS business up for sale
1

2

Currently reading

Analysis: What does the future hold for Arcadia's BHS?

3